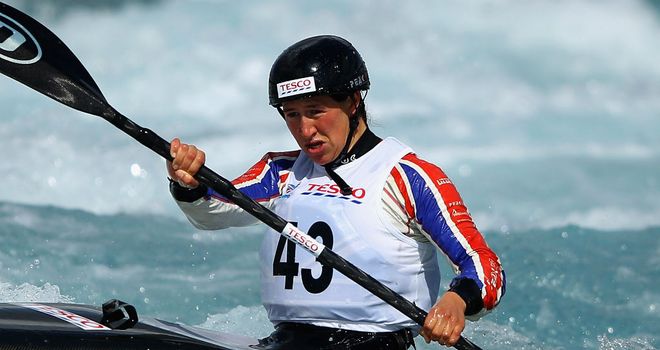 Lizzie Neave: Third place in Pau
Great Britain's Lizzie Neave provided the lone highlight from the Slalom World Cup in Pau as she took third place in the women's Kayak.
Neave landed her first medal of the year in the final of the women's kayak (K1), improving her semi-final time by three seconds.
Despite taking the early lead, she was overhauled by Spain's Maialen Chourrant and France's Carole Bouzidi.
However, Neave took the positives as she said: "I am really happy, especially after last weekend in Cardiff where I didn't have a great time.
"I'm really pleased to have built through the competition and put in a good run when it counted.
"I felt much more in control this weekend, it's been a tough course and all the top boats are here, so it fills me with confidence for the rest of the season.
"It's great to get back on the podium as it has been a while."
Her coach, Paul Ratcliffe, added: "It's a cracking result for Lizzie.
"It's been important for us to stay patient over the last few races, as we have been working on her race plan step by step to London."
Tim Baillie and Etienne Stott finished fifth in the canoe double (C2) final, where David Florence and Richard Hounslow failed to make it past the semi-final, finishing 14th. Louise Donington was 19th in the women's K1 semi-final.
The team are next in action from at World Cup 3, which starts on Friday in La Seu d'Urgell, Spain.