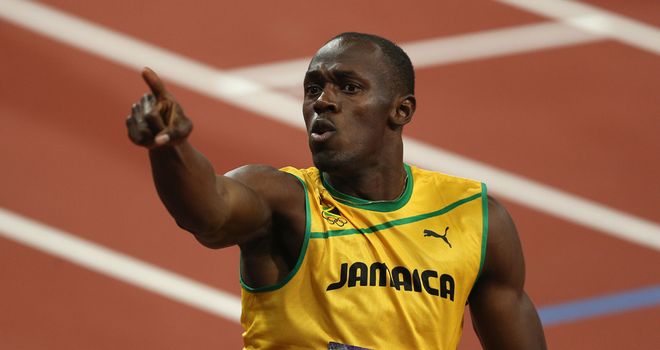 Usain Bolt: Olympics legend knows it will be tough in the sprints in Rio 2016
Sprint ace Usain Bolt admits it will be a 'hard mission' to defend his Olympic titles at Rio 2016, but does not envisage retiring until he is 30.
The Jamaican superstar achieved legendary status on Thursday after becoming the first man to win the Olympic sprint double twice in succession.
With the compatriots he led home in Thursday night's 200m final - Yohan Blake and Warren Weir - both only 22, the 25-year-old admits it will be hard to defend his titles again.
Bolt said: "I think it's going to be a hard mission. Both these guys are 22. They are going to be 26, I'm going to be 30 (his birthday is August 21, the day of the closing ceremony in Rio).
"Both these guys are running extremely well right now. I think I've had my time. It's going to be hard. In life everything is possible, but for me this is going to be a hard reach because there's going to be a lot more talent coming up and these guys have really stepped up already.
"I think when I get to 30 I've got to be thinking about retirement because track and field is way too hard."
Usain Bolt Quotes of the week
"For me I'm not looking that far. I've made myself a legend, I'm just going to enjoy it right now. To have set a goal for yourself for years to become a legend and then to accomplish that goal is just a wonderful feeling.
"You can't explain the happiness in that because it's not going to hit you until you get home, sit down and reminisce and you are talking to your friends and they say 'Remember when you got injured here and you got injured there, remember Yohan beat you here.'
"Those are the things that will bring tears to your eyes because you've got to remember the journey that you've pushed through and then the happiness will come out. I know that when I sit down and think about the struggles that I've been through over the seasons...I'm not saying I'm going to cry, but I'm going to be really happy."
Such comments prompted a question about whether Saturday's 4x100m relay final - assuming Jamaica qualify - could even be his last race, but Bolt insisted that was still some way in the future.
Not ready
"No, no, no, I'm not ready to retire yet," he added. "I love this sport, I have got all my success through this sport, all my fans through this sport, so I'll always continue to run.
"I think when I get to 30 I've got to be thinking about retirement because track and field is way too hard. It's rough day in and day out. Yohan Blake is running 19.4 already, his personal best is 19.2, so in the next four years he's going to be firing. I think I'd like to get out early, before he starts running too fast, so for me 30 yes, I definitely think I'll retire about that time."
Bolt's dream of playing for Manchester United as a speedy winger would appear rather unlikely even for a man of his talents, so where does he go from here?
The subject of the 400m was quickly slapped down - "No to the 400m, no. Please do not ask any more questions about the 400m" - as was a conversion to the Winter Olympics and the Jamaican bobsleigh team, but the long jump could be a possibility.
American Mike Powell said last year that Bolt should wait until after London 2012 before giving the long jump a go, and believes the world record holder over 100 and 200m could add the long jump mark - Powell's record is 8.95m - to his collection.
"That's something I've always wanted to try," Bolt said of the long jump, adding: "I made a goal, to become a legend, so I need to sit down and find something that's going to really motivate me to go out there and do great things.
"I don't know what I really want to do after this, if I'm going to still run the 100 or the 200 or I want to try something else. I don't know so I'll see.
"All I have to do now is go home and rest, I have got the 4x100m coming up and then on Saturday I will party like it's my birthday."