Both grouped together under canoeing, the two events of canoe slalom and canoe sprinting are two very different entities despite being performed in largely the same type of boats.
The sprints are raced in either canoes or kayaks on a straight course - usually the same venue as rowing events - and divided into lanes, while slalom is raced down a whitewater course with gates to get through.
The sport is competed in both canoes and kayaks, and each specific division is named to indicate which boat is used. For example, C-1 would be one-man canoe, whilst K-2 would be two-man kayak.
GLOSSARY OF TERMS
Eddy: White water feature - turbulence behind obstacles
Upstream gate: A slalom gate (red/white) to be negotiated 'upstream'
Hole: A white water feature created below a drop
Two: A two-second time penalty given for touching a pole
Spraydeck: Neoprene kit that keeps water out of the cockpit ('deck)
Offset: Zig-zag sequence of downstream gates
Part head 50: The whole head has to be in the gate, otherwise there is a 50-second time penalty
Paddler: A canoeist
Wing paddle: a relatively new, spoon shape paddle type, now used exclusively
Boat Control: Boats checked for weight and length to regulations.
Cockpit: Mid section of the craft in which the 'paddler' sits
Wash: The rough water left behind a moving boat
Start gate: Metal 'shoe' in which the bow of the canoe sits immediately awaiting the start.
The main difference between the two events is that a Kayak athlete is in a sitting position with a double ended blade, whilst those in the Canoe kneel and use a single bladed paddle.
Sprint is a simple race to a finish line, while the aim of slalom is to get down a Whitewater course through a series of hanging gates in the fastest time possible. Penalties are incurred for touching gates and are added to any time. The winner is the fastest person down the course.
At the Olympics, only men can compete in a two-man boat in the C-2 class, whilst women will not compete in canoes at London 2012, although a C-1 class for women will be brought in at the 2016 games in Brazil.
There will be four medal winning events for canoe slalom at London 2012 and 12 in the sprint disciplines.
History
The sport's origins go back to the 19th century and The Royal Canoe Club of London was formed in 1866 and was the first organisation to develop the sport.
At the Olympics both men and women race, although at the moment only men race in canoes.
Canoe Sprint, unlike Canoe Slalom, is a long-standing event at the Olympics with men first racing in the 1936 Berlin games, whilst women were introduced at the London games of 1946.
Canoe Slalom is the event formerly known as Whitewater Slalom up until 2008.
Whitewater racing first emerged in Europe and in the 1940s the governing body, the International Canoe Federation (ICF) was founded to organise the new sport.
Canoeing Slalom was first competed at the Olympics in Germany in 1972, but then there was a break for 20-years until Barcelona and it has been an ever present since.
Every Olympic course, barring the Ocoee River course in Atlanta in 1996, has been a man-made course.
Olympic Greats
Gert Fredriksson: The Steve Redgrave of canoe sprinting, winning six gold medals in four Olympics, eight medals overall and golds in four consecutive Games from 1948-60. The most successful male canoeist ever, Fredriksson is also Sweden's best ever Olympian with his medal haul, which included a bronze in Rome in the K1 - 1000m event after claiming gold in the K2 equivalent.
Birgit Fischer: The German canoeiste clipsed Fredriksson's medal tally when she became the first athlete in any sport to win two medals in five Olympic Games in Athens in 2004. Fischer started her Olympic career in Moscow in 1980 with a single gold, before missing LA in 1984 due to the boycott, but was back with a bang in Seoul two golds and a silver and she went on to claim eight gold medals and four silver in a combination of single, two and four-person kayak sprint events.
Best of British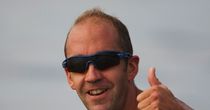 Tim Brabants is sure to be challenging again
Tim Brabants: has competed in three Olympic Games from 2000 onwards and picked up three medals - one gold and two bronze medals. Brabants, who combined his training with training to become a doctor, was the first British canoeist to win gold in either sprint of slalom kayak events when he dominated the K1 1000m event in Beijing.
Helen Reeves: showed a lesson in perseverance when she finally ended years of injury battles by grabbing slalom bronze in Athens - the first medal won in the event by a British woman. With three shoulder injuries ruling her out of Sydney and the World Championships in 2000, Reeves almost gave up the sport but pressed on and only just scraped into the 2004 Olympics with a late qualification. Even in Athens, Reeves looked to have continued her hard luck story when finishing fourth, but third-placed Frenchwoman Peggy Dickens was awarded a penalty and after a nerve-jangling 15-minute wait Reeves finally had her taste of glory.
Ones to Watch
Britain's David Florence picked up slalom silver in the men's C1 in Beijing and will be looking to go one better, while team-mate Campbell Walsh was a silver medallist in the K1 category in Athens 2004 and is still looking for gold.
Tim Brabants is sure to be up there challenging again on the flat water in the sprints, while Ed McKeever was world K1 200m champion in 2010 so also has plenty of speed to fight it out for a medal.
German Ronald Rauhe has the full set of Olympic medals and is the most successful kayaker with 13 world titles to his name so far at 200m and 500m and should still be a real force in London.
Hungary's Katalin Kovacs will be at veteran status come London, but with two Olympic golds, six Olympic silvers and a hatful of world title under her belt, she will still be a force in the K2 and K4 team.