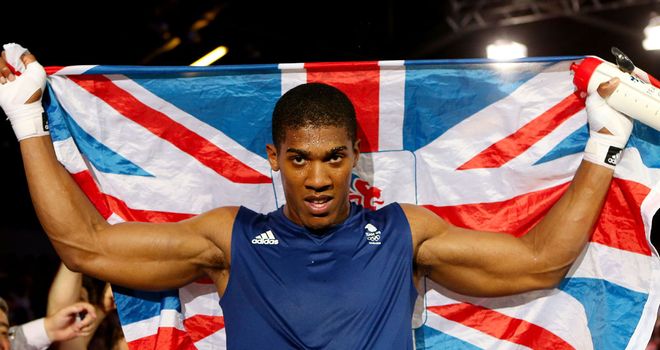 Anthony Joshua: Landed gold for GB on Sunday in dramatic fashion
British super-heavyweight Anthony Joshua dramatically came from behind to win an Olympic gold on Sunday.
London boy Joshua turned round a three-point deficit in the final round against Italy's reigning champion Roberto Cammarelle to level it 18-18 after all three rounds.
He then won on countback of the number of punches landed and the roof almost came off the ExCeL arena as 10,000 largely local London fans celebrated.
An exhausted but elated 17-stone Joshua, a strapping 6ft 6in, raised his hands in triumph while his cornerman and coach went wild along with the crowd.
"No easy fights in these Olympics and I've pulled it out of the bag," said Joshua after his success, which Italy unsuccessfully appealed against.
Undaunted
Joshua had started looking entirely undaunted by the reputation of the man in the opposite corner, and it was no surprise having beaten Cammarelle in their only previous meeting in the quarter-finals of last year's World Championships.
Still a relative novice in super-heavyweight terms, Joshua had improved enormously in every bout in the competition so far, and the left jab with which he dominated Ivan Dychko in the semi-final was once again in evidence here.
But if Joshua controlled the majority of the opener, he entered dangerous territory in the last 30 seconds when he was caught in the Italian's corner and clattered by four consecutive right hands by Cammarelle.
Chastened by the experience, Joshua started the second in more cautious fashion, allowing the bulkier Cammarelle to dictate the pace of the contest and once again land the cleaner shots in the final moments of the round to extend his lead to three points.
It was no surprise that both men went at it in the last, Joshua suddenly finding more success with big rights, one of which clearly rocked his opponent, and the crowd roared him through the final few seconds before the drama unfolded.
Blessed
Regarding the sell-out crowd who helped roar him to victory, Joshua said: "Again and again and again they've come out. Sunday is a holy day and I was blessed.
"The hearts of all these people out here, around the nation. That medal represents my journey and the support from the team. It's much more than just a gold medal, it's a life experience and I'm just proud to have it round my neck."
There will now be talk of Joshua going into the professional ranks, but he insisted he still had much to learn, saying: "I want to gain more experience and just keep on pushing.
"I've had 43 bouts, 40 wins, that's nothing. I just want to keep on pushing. As an amateur, I'm still an amateur for now."
After rounding off Britain's most successful boxing performance at a Games for over 100 years, the 22-year-old also paid tribute to his fellow boxers in Team GB.
He said: "It's not just me, it's my fallen soldiers and the ones that made it and we all drag each other along. Team GB, it comes to the 10 of us, three girls and seven boys."