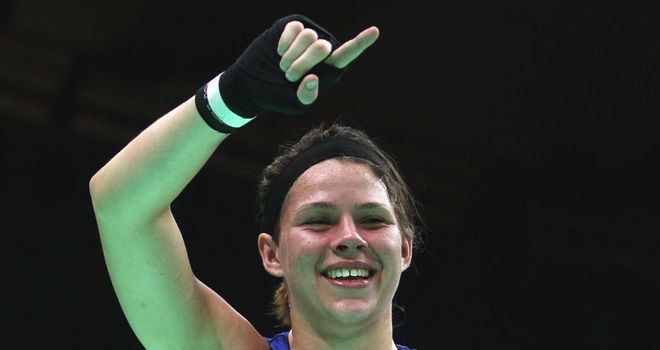 Savannah Marshall: The British boxer celebrates her women's world boxing title victory
Savannah Marshall has vowed to follow up her historic women's world boxing title victory by claiming Olympic gold this summer.
She also aims to inspire the rest of the 10-strong Great Britain team to believe that they can do the same.
Marshall became Britain's first women's world champion, as she beat Elena Vystropova 17-15 in the middleweight final in Qinhuangdao, China on Saturday. It was also the Hartlepool fighter's 21st birthday, flying back to big celebrations in her home town.
Determined
She said: "The response has been amazing. I can't believe it's all for me. Seeing how much it means to everyone makes me even more determined to win Olympic gold.
"I am going to the Olympics as world champion but I won't feel any extra pressure. I just go out there to box my best and it makes no difference what people are saying about me."
Men's middleweight and fellow Olympic qualifier Anthony Ogogo was among those offering his congratulations. The pair have sparred many rounds at their training base at the English Institute of Sport.
Ogogo added: "Before I sparred with Savannah I'd never sparred with a girl before so of course you think about taking it easy and not punching too hard - but I soon realised Savannah could give as good as she got.
"I think we have both benefited enormously from our sparring sessions. Savannah winning the world title will give the whole British team a lift, and help us all find that extra five per cent that might make the difference."
Stamina
Rob McCracken, Great Britain performance director, said Marshall's sparring sessions with both Ogogo and British light-heavyweight Callum Smith had helped play a major part in her climb to the world title.
McCracken said: "Savannah has benefited from sparring Anthony and Callum.
"We have really stepped it up in recent months and her stamina and footwork have improved enormously."
Marshall arrived home on Sunday night from China to a party at Hartlepool's Headland Gym, where she first started boxing at the age of 12 despite the reservations of Tim Coulter, her coach .
Coulter said: "Savannah deserves everything she gets for all the hard work and dedication she has put in over the years. She certainly proved me wrong and now I see no reason why she shouldn't go on and win Olympic gold."
Despite the plaudits, there seems little danger of Marshall getting carried away by her success, admitting that she is still struggling to come to terms with the magnitude of her achievement.
"When I started boxing I dreamed about things like this but I never really thought it would happen. Women's boxing wasn't even in the Olympic Games. I just boxed because I loved doing it," Marshall added.
Marshall is one of the maximum quota of three Great British women to qualify for the Olympics. Nicola Adams will fight at flyweight after winning a silver medal in China, while bronze medallist Natasha Jonas competes at lightweight.
The trio - plus the seven male qualifiers - Andrew Selby, Josh Taylor, Luke Campbell, Thomas Stalker, Fred Evans, Ogogo and Anthony Joshua - will be unveiled officially at a British Olympic Association press conference next month.