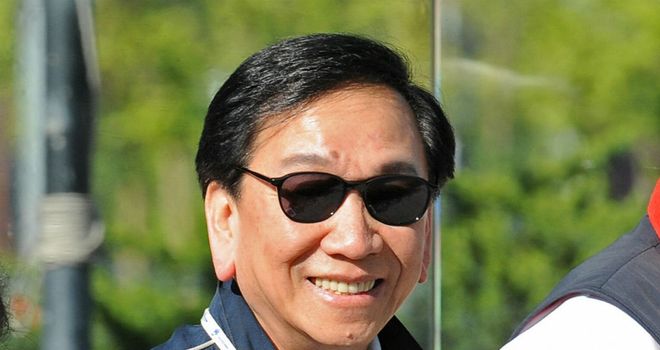 Ching-Kuo Wu: full facts have emerged and the air has been cleared
The president of amateur boxing's world governing body believes the integrity of the organisation has been proven following a probe into claims made by the BBC.
AIBA appointed a special investigations committee to look into allegations of corruption levelled by the BBC's Newsnight programme.
The two-month inquiry, headed by the chairman of AIBA's disciplinary committee, declared the BBC report - which claimed an Azeri businessman bankrolled AIBA's World Series of Boxing in return for two guaranteed Azeri medals at London 2012 - to be "groundless and unsupported by any credible evidence".
AIBA president Dr Ching-Kuo Wu met his International Olympic Committee counterpart Dr Jacques Rogge to hand over the report.
"We are pleased that after a lengthy investigation, the full facts have emerged and the air has been cleared," Dr Wu said.
"We welcome the findings of this important process, and are pleased that our procedures and our integrity have stood up to the scrutiny of an independent inquiry.
"I wanted to share the full report of the special investigation committee with president Rogge as soon as I received it as this is appropriate."
Dr Wu also revealed he had "full confidence" in Ivan Khodabakhsh, the chief operating officer of World Series of Boxing, who was fully exonerated of any wrongdoing by the committee.
The BBC responded to the findings by insisting they stand by the claims made in the programme.
Independent
The BBC have also declared their intention to continue to co-operate with an independent investigation by the IOC's ethics commission.
The special investigations committee's statement read: "We have conducted an exhaustive investigation over the past two months and we have concluded that the allegations...were completely without merit."
The committee accepted that an investment was made by an Azeri businessman, Hamid Hamidov, but said the investment was purely for "commercial purposes" and "the subject of medals had never come up in any discussions or agreements".
The committee completely exonerated Khodabakhsh - also an Azeri - who was challenged in an interview on Newsnight.
In a statement, the BBC said: "Newsnight is aware of AIBA's position and we stand by our investigation.
"While we anticipate AIBA making all the evidence they reviewed public, we are continuing to co-operate with the ongoing independent investigation by the International Olympic Committee ethics commission."