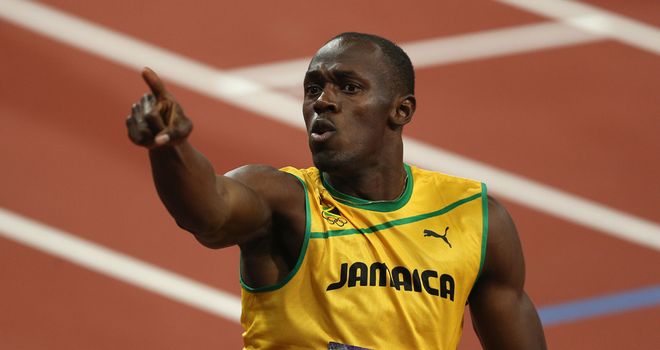 Usain Bolt: Believes he is now a living legend
Usain Bolt has proclaimed himself a living legend after becoming the first man to win the Olympic sprint double twice in succession.
Bolt achieved the legendary status he had craved by retaining his 200m title in 19.32 seconds, leading a Jamaican clean sweep ahead of 100m silver medallist Yohan Blake and Warren Weir, both of whom are just 22.
"I'm now a living legend. Bask in my glory," Bolt said. "Now I am going to sit back, relax and think about what's next.
"I don't know what I really want to do after this, whether to run the 100 or 200 or try something else. I need to find a (new) goal that's going to motivate me to great things.
"But I am not ready to retire. I love this sport. The rest of the season I am just going to have fun because I did what I came here to do."
" I need to find a (new) goal that's going to motivate me to great things. But I am not ready to retire. I love this sport."
Usain Bolt Quotes of the week
Bolt had lost to Blake over 100 and 200m at the Jamaican trials but gained sweet revenge over both distances in London, even having the time to raise a finger to his lips as he crossed the line last night.
That was jokingly directed at training partner Blake, who had made the same gesture at the trials, and Bolt - who came up with his version of a 'Royal wave' before the race - added: "A lot of people were doubting me but that's good because now you know who your true friends are who are going to support you through everything."
Asked about breaking the world record of 19.19secs he set when winning the world title in Berlin in 2009, Bolt added: "I think it was possible but I guess I wasn't fit enough. I was fast but I wasn't fit enough.
"I came off the corner, I could feel the strain on my back a little bit so I was trying to keep my form, but I stopped running because I knew it wasn't going to be a world record. I really wanted to do it in the 200m but I'm happy. I came here and I gave it my all and I'm proud of myself."
Bolt has also hit out at people who make claims about the use of performance-enhancing drugs in athletics, and has "lost all respect" for former Olympic champion Carl Lewis.
On the day Bolt created history, Victor Conte - the convicted owner of the Bay Area Laboratory Co-operative (BALCO) that supplied drugs to the likes of Dwain Chambers and Marion Jones - had claimed it was easy for cheats to prosper at London 2012 and that 60% of athletes are using drugs.
And while Bolt reacted angrily to Conte's claims when they were put directly to him, it was unclear exactly what sparked the Jamaican's diatribe against Lewis.
Lewis has previously questioned the stringency of Jamaica's drug-testing programme, but such comments were initially made in September 2008 - shortly after Bolt won three gold medals and set three world records at the Beijing Olympics.
"It is really annoying when people on the sideline talk stupid stuff," Bolt said when asked about Conte's claims. "I think a lot of these guys who sit and talk, especially Lewis, no-one really remembers who he is, so he is just looking for attention. That is my opinion.
"It is really annoying to know that people are trying to taint the sport. The sport has been going forward. For someone to say that without any proof is really annoying. We work hard. We push ourselves to the limits."
Bolt added: "I am going to say something controversial right now; Carl Lewis, I have no respect for him. The things he says about the track athletes is really downgrading, for another athlete to be saying something like that about other athletes.
"I think he's just looking for attention really because nobody really talks much about him so he's just looking for attention. So that was really sad for me when I heard the other day what he was saying."