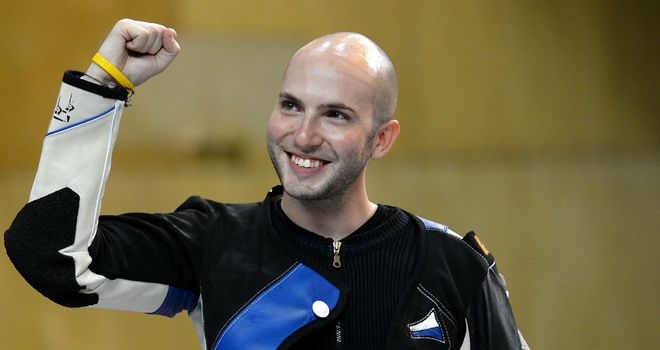 Niccolo Campriani: Took a dominant gold medal
Niccolo Campriani of Italy struck gold in the men's 50-metre rifle three positions as Matt Emmons' last-shot curse struck yet again.
Engineering student Campriani won silver in the 10m air rifle earlier this week but went one better than that on the final day of competition at the Woolwich Barracks.
The destination of the gold was never in doubt after Campriani started the final with an eight-point lead having smashed the Olympic record in qualifying with a score of 1180 - and he finished six points clear to set a combined Olympic best.
But there was drama behind him as Emmons, who famously blew winning positions to miss out on the medals in the same event at the last two Olympics, sat in second place with a 1.6-point lead heading into the last round.
And once again the American fluffed his lines with comfortably the worst shot of the final, a 7.6, allowing South Korea's Kim Jonghyun to snatch silver with a 10.4.
Emmons did at least manage a bronze, with Cyril Graff of France just 0.3 points behind.
British duo James Huckle and Jonathan Hammond had earlier failed to make the final.
Huckle, 21, from Essex, and 31-year-old Scot Hammond were unable to break into a strong top eight.
Huckle went into qualifying with high hopes in what is his preferred event, having missed out in both the 10m air rifle and 50m prone earlier this week.
But his three-round total of 1162 left him ranked 25th.
Superbly
Hammond started superbly with 395 in the prone, his strongest discipline, but his standing section let him down badly, scoring just 361 before finishing with 386 in the kneeling.
His late rally was not enough to prevent him finishing last of the 41 competitors.
Meanwhile, hopes of adding to Peter Wilson's success in the shooting ended as GB's Ed Ling failed to make the final of the men's trap.
The 29-year-old from Somerset watched Wilson win gold in the double trap on Thursday and began his campaign in the single-clay version on Sunday.
He was well placed after the first three rounds, scoring 72 out of 75, and started with a perfect 25 to remain in the hunt.
But Ling's final round of 21 left him well outside the top six who qualified for the final.
That was later won by Croatia's Giovanni Cernogoraz.
The 29-year-old qualified for the final with the lowest score of the six finalists but missed only once while his rivals faltered.
He ended up in a shoot-off for gold with world champion Massimo Fabbrizi, and it was the Italian who missed first to give Cernogoraz the title.
Two-time Olympic champion, Australia's Michael Diamond, led the way in qualifying with a perfect score of 125 but missed five targets in the final - where shooters get one shot instead of two - to blow his chances of gold number three.
He even lost out in a shoot-off for bronze, going down to Kuwait's Fehaid Aldeehani, leaving Australia without a shooting medal at the Games.