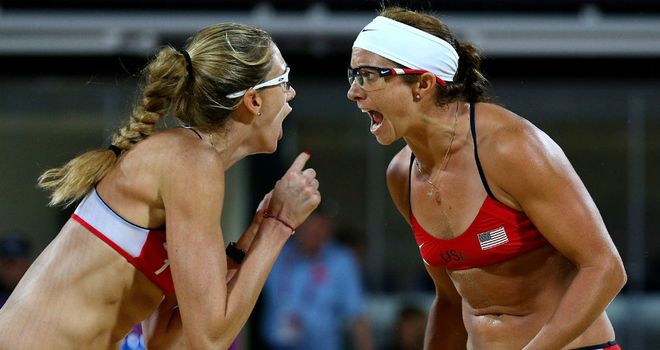 Misty May-Treanor and Kerri Walsh: triumphed in straight sets at Horse Guards Parade
Misty May-Treanor and Kerri Walsh of the United States claimed the gold in the all-American final of the women's beach volleyball.
The duo defeated number six seeds Jennifer Kessy and April Ross in straight sets in front of a royal audience at Horse Guards Parade, as Prince Harry watched on as the reigning champions swept aside their compatriots.
The first set was evenly matched and was all-square at 13-13 but then the experienced May-Treanor and Walsh opened up a three-point gap.
A fault by Kessy handing them five set points and although Ross saved one it was only delaying the inevitable, May-Treanor firing her team to a 1-0 lead.
Pegged back
Both teams fought hard to gain an edge in the second set, with Ross and Kessy pegging back their opponents with a well-timed ace to take it to 7-7.
However, three straight errors allowed May-Treanor and Walsh to pull away and they then powered to victory with four match points to spare, sealing their third consecutive Olympic title.
Meanwhile, Brazil's reigning world champions Larissa Franca and Juliana Silva took home the bronze after coming from behind to beat Chinese duo Xue Chen and Zhang Xi.
Xue and Zhang easily took the first set but the Brazilian pair stepped it up to win their first Olympic medal.
Silva said: "It was a difficult match. The Chinese team is a very good team. We didn't start the first set very well, we decided to ignore our mistakes and focus on the second set.
"Larissa was in charge of the turning point and things changed in the match."