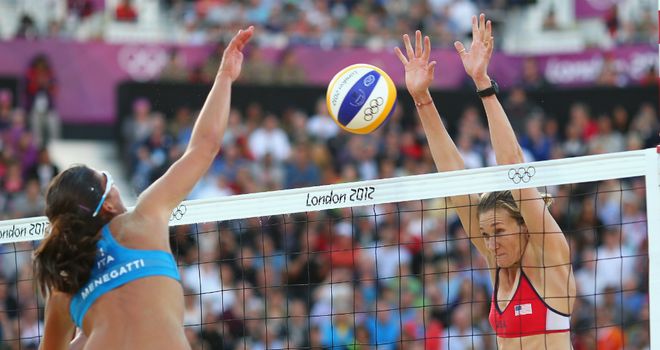 Kerri Walsh (right) rises high to block Marta Menegatti
Misty May-Treanor and Kerri Walsh sent out the strongest signal yet that a third Olympic gold medal is within their grasp after a brutal straight-sets dismissal of Italy's Marta Menegatti and Greta Cicolari sealed their place in the last four.
The Italian duo were viewed as a tough test for the Americans in the quarter-finals but an upset was never on the cards, with Walsh delivering the towering blocks and May-Treanor the tireless back-court defence that has made them two-time champions.
There were fears the duo's powers might be on the wane when they dropped a set for the first time in 17 Olympic matches in their encounter with Austria in the preliminary phase, but they have hit back in style and tonight's 21-13 21-13 was a statement of intent.
Next up for the Americans is a semi-final match-up against Beijing bronze medallists Zhang Xi and Xue Chen of China.
Precise
May-Treanor and Walsh were imperious in the first set as they eased six points clear of the European champions. A couple of precise cross-court spikes by Cicolari gave Italy hope, but when Walsh twice blocked Menegatti to make it 14-8, the job was as good as done.
The frustration began to tell on Menegatti in the second set when the 21-year-old broke down in tears during a timeout, but the emotion appeared to steel her as she quickly won a couple of useful points.
But at 10-4 down the gap to the Americans was always too great to bridge, and after the Italians saved two match points May-Treanor's unerring spike got the job done at the third attempt.
"We have fine-tuned our play, our sonars are working, but every day the competition will get tougher," said Walsh.
"We will go back to work tomorrow, we will do more mental than physical training. We will focus on the Chinese and breaking them down."