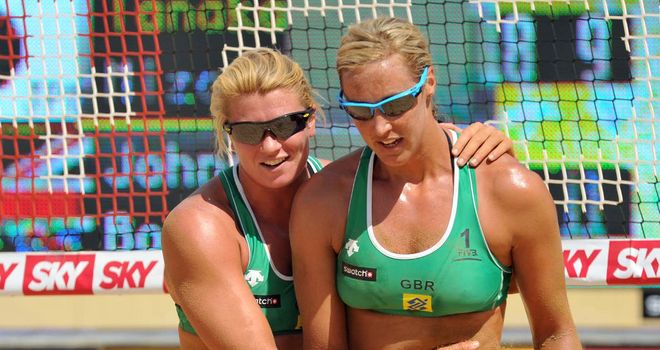 Lucy Boulton (left) with partner Denise Johns
I¡¯ve been really lucky to have some company from home while we were out in California. My boyfriend came and joined me for two weeks and then my sister flew out for the last five days. Even though we were training six days a week I still managed to squeeze in some shopping in Santa Monica and an afternoon at Disneyland, so it wasn¡¯t all work and no play in LA. Funny that now I¡¯m in China I haven¡¯t had as many offers of people coming to visit as I did in California.
We spent the final three weeks of the pre-season training in Hermosa Beach, which was the perfect place to train. The weather was fantastic, the availability of training partners and practice courts were in abundance, the standard of fitness training facilities was really high, not to mention the food options.
The season officially began on 16th April in Brasilia, so we headed down a few days before. Even though we were already on the right side of the world it was still a long overnight trip with a five hour layover in Panama City. We did manage to charm an Asian businessman into taking us into the airport lounge as his guests (I think he thought we were part of a basketball team) but the plan faltered when he left on a flight to Miami and the lady in charge promptly chucked us all out.
After a lie in to get over the trip we headed out for our first training session on the Friday afternoon. The conditions were quite different to those we¡¯d been used to in California so it took some getting used to. For a start, as it was in the middle of a city, the sand was pretty shallow which was a good thing as we could jump out of it and use our athleticism, something that would bode well for us over the week. Brasilia, however, is at altitude which definitely had an effect on the way the ball moved. We had to be careful of the power we put into the ball, especially when serving, otherwise it would just sail out the back.
Over the weekend we worked all this out and felt ready to play by the time Monday came around. The draw for the qualification tournament was made on the Sunday night and our first match of the Olympic year was to be against the 15th seeded pair from Japan (we were the 18th seed). There were some delays on the centre court games where we were due to play but we finally got around to playing at around 1.40pm. It was a hot day so we were really put to the test physically and mentally, but I guess all that hard work we did in the pre-season paid off and we won the game in 2 sets 21-18, 22-20. Due to the delays earlier on we didn¡¯t have long between games, just enough time for a bite to eat and a moment to put our legs up before we were back on centre court ready to battle our way into the main draw. This time we had to get past the 2nd seeded USA pair. It was tough going but after a far from ideal start we managed to claw the game back and won in 3 sets 13-21, 21-14, 15-11.
Significant
The win was significant for a number of reasons, not least the fact we had broken our drought of not qualifying into the main draw. It was a good feeling but really the competition was just beginning and we certainly had our work cut out in the opening round the next day.
As our seeding was so low from last season we were drawn against the current Olympic champions, two time Gold medalists, and probably the most successful beach volleyball team ever, Kerri Walsh and Misty May-Treanor. I think we approached the game with the right attitude and concentrated on our side of the net; which wasn¡¯t always easy when Kerri¡¯s 6¡¯4 arms were high above it and Misty was scooping up everything up in defence.
But we kept with them right through the 1st set, narrowly losing 21-18. We dropped a few points early on in the 2nd set and struggled to stay with them after that. We lost the match 2-0 but it was still a great experience.
This put us into the contender¡¯s bracket where we met a young German team who had also come through the qualification tournament. They¡¯d lost in 2 sets to a Canadian pair and having recently trained with them in Feurteventura, I really thought we had a chance of winning this game.
It was a closely fought contest and we were level going into the third set, but they edged out the win 15-12 due to a couple of untimely errors from us in the penultimate end. Overall it was still a positive first event for us. We demonstrated a consistent level of play and one which matched the level we¡¯d been training at.
Day off
As the tournament started earlier than usual on a Monday (for Brazilian TV purposes) it meant we had a couple of days before we moved on to the next tour stop. Of course we had practice but there really wasn¡¯t much to do for the rest of the day.
For anyone who¡¯s never been to Brasilia the best way I can describe it is Milton Keynes in the desert. Lots of dated glass building surrounded by red dusty roads. Two positives I would take away though are cheap Havaianas flip-flops and fantastic meat at the Charrascuria. It was actually important for us to get our meat fill here as it will be off the menu for these next three weeks in China.
So last Friday we began our trip across the globe. Total flying time was 27 hours and 15 minutes, we covered 13, 325 miles and door to door the journey took 42 hours. I guess they don¡¯t call this the World Tour for nothing. But we finally made it to Sanya, the ¡®Hawaii of Asia¡¯. The main difference to last week is the humidity. That coupled with the mid-day sun yesterday meant I was the closest to passing out I¡¯ve ever felt, which could make for some interesting games over the next few days.
The good news is that we were awarded the Wild Card for this first Chinese event which puts us straight into the main draw. Whilst we will still have a low seeding and will most likely have to play the No.1 or No.2 seeds in the first round, it means we don¡¯t have the stress of the qualifier this week. And I¡¯ve got to be honest, as I¡¯m sitting here by the pool penning this blog as the qualification tournament is going on, is a pretty nice feeling.
I will write again after this three week stint in China (we have two more stops in Shanghai and Beijing) to let you know how we get on and if/how I survived without meat. But for now ллÄã (means Thank you, hopefully!!)