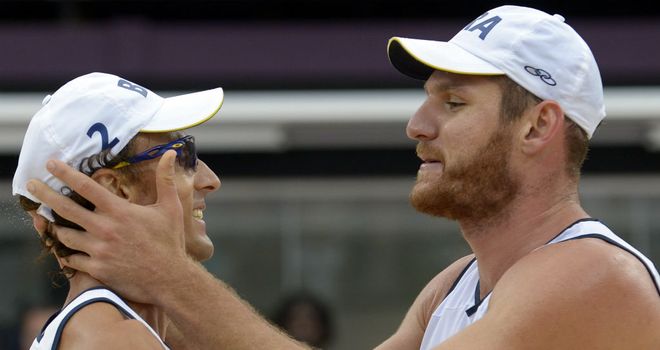 Alison Cerutti and Emanuel Rego are through to the final
Germany and Brazil will fight it out for the gold medal in the men's beach volleyball competition.
The German pair of Julius Brink and Jonas Reckermann made it through to the final with a straight-sets win against Reinder Nummerdor and Rich Schuil.
And they will face the gold medal favourites of Alison Cerutti and Emanuel Rego after the Brazilians halted the charge of Latvia's Martins Plavins and Janis Smedins.
Plavins and Smedins, who will now contest the bronze match with Nummerdor and Schuil, had earlier ended the involvement of the highly-fancied USA team.
Cerutti and Rego were too strong, though, as they raced to a straight-sets victory.
Dream
"We won the first set easily, so the other team changed their strategy," said Emanuel.
"So I told Alison to take it easy, relax and take a deep breath and I would do the sets for him and he needed just to do his thing."
Alison added: "It's a dream come true. I have been dreaming about this since I was a child.
"Today I can finally say I am an Olympic athlete with a medal. But I am still dreaming about the gold."