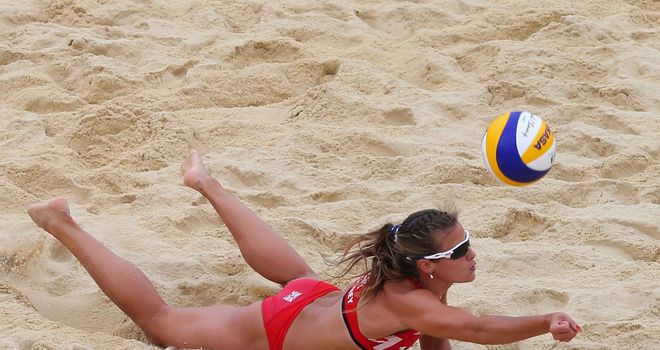 Zara Dampney: Was unable to secure a place in the last 16
British duo Shauna Mullin and Zara Dampney crashed out of the beach volleyball competition late on Thursday night.
The pair went down 2-0 in their lucky loser play-off against Austria at Horse Guards Parade as Doris and Stefanie Schwaiger closed out a comprehensive win.
The first set lasted 20 minutes as Mullin and Dampney battled hard to reward the home fans with a spirited display but they were unable to mount a credible challenge in the second as they were manoeuvred around the court by their opponents.
"We just want to thank everyone for coming out and supporting us," Mullin told the fans afterwards. "We're very proud of you guys for being behind us all the time.
"Thank you, we love you. It's been an incredible week for us. We brought our game home to Britain and it's been just amazing for us, thanks to everyone."
The duo had earlier gone through as lucky losers despite slipping to defeat against Russia in their final Pool F clash.
Mullin and Dampney won their opening match against Canada but were heavily beaten by Italy in their second preliminary phase clash, meaning they needed victory against Russia to be sure of securing a place in the knockout stage.
Their opponents also needed a result to ensure their progress and proved too strong, winning 25-23 21-13 at Horse Guards Parade.
Mullin and Dampney, who finished third in their pool with four points, will now be keeping a keen eye on the draw as one of the four lucky losers.
Russian duo Evgeniya Ukolova and Ekaterina Khomyakova edged a tight first set, with the latter growing in confidence as the match went on.
Mullin stole points with some smart cross-shots and spikes, but the Russians finally took the set when Mullin fired into her own net.
The British pair took umbrage with some strict refereeing decisions, with Russia finding a different gear in the second set.
Ukolova took control at the net on her way to 25 points, with the eastern European pair easing to a 21-13 victory to secure their place in the round of 16.