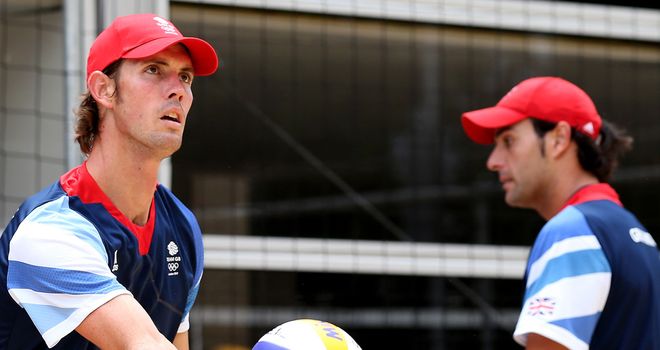 John Garcia-Thompson (R) and Steven Grotowski: Open against Canada
John Garcia-Thompson and Steven Grotowski will start Team GB's Olympic beach volleyball campaign with an opening-day clash against Canada's Josh Binstock and Martin Reader on July 28.
The GB men's pair will be the first of the home nation representatives to sample the atmosphere of the temporary 15,000-seater arena at Horse Guards Parade when they compete in the early-evening contest.
Garcia-Thompson and Grotowski have been drawn in Pool F for the 13-day event, and will also play matches against Brazil's Pedro Cunha and Ricardo Santos on July 30 and Tarjei Skarlund and Martin Spinnangr of Norway on August 1.
The GB women's team of Zara Dampney and Shauna Mullin will have to wait until the second day of competition to begin their own Pool F campaign against Marie-Andree Lessard and Annie Martin of Canada.
The pair also face Greta Cicolari and Marta Menegatti of Italy on July 31 and Russia's Ekaterina Khomyakova and Evgenia Ukolova on August 2.
Opening match
Elsewhere, Beijing bronze medallists Zhang Xi and Chen Xue will have the honour of contesting the opening match of the tournament when they play Russia's Anastasia Vasina and Anna Vozakova.
Defending two-time women's champions Misty May-Treanor and Kerri Walsh from the United States will also be in action on the opening day, taking on Sydney champion and five-time Olympian Nathalie Cook of Australia and her partner Tamsin Hinchley.
USA duo Todd Rogers and Phil Dalhausser will start the defence of their men's title on July 29 when they play Japan's Kentaro Asahi and Katsuhiro Shiratori.
Twenty-four teams will contest both the men's and women's events at Horse Guards Parade, with the pairings split equally into six pools of four.
The pairs play each team in their group once, with the top two advancing to the knockout phase along with the two best third-placed teams.
The remaining four third-placed teams will then compete in play-off matches for the right to take up two remaining berths in the last 16.
Team GB Olympic beach volleyball schedule:
MEN:
July 28: 16:30 - 17:20, Pool F - Grotowski/Garcia-Thompson (GBR) v Binstock/Reader (CAN)
July 30: 17:30 - 18:20, Pool F - Grotowski/Garcia-Thompson (GBR) v Cunha/Ricardo (BRA)
August 1: 17:30 - 18:20, Pool F - Grotowski/Garcia-Thompson (GBR) v Skarlund/Spinnangr (NOR)
WOMEN:
July 29: 17:30 - 18:20, Pool F - Mullin/Dampney (GBR) v Lessard/Martin (CAN)
July 31: 17:30 - 18:20, Pool F - Mullin/Dampney (GBR) v Cicolari/Menegatti (ITA)
August 2: 15:30 - 16:20, Pool F - Mullin/Dampney (GBR) v Ukolova/Khomyakova (RUS)