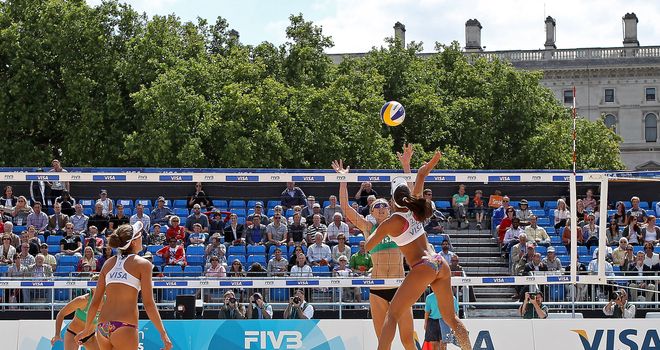 Beach volleyball: Where were the men at London test event?
British Olympic beach volleyball hopeful Robin Miedzybrodzki believes the absence of male players from last summer's test event in London was a "huge opportunity missed".
Speaking ahead of the start of the men's 2012 World Tour in Brasilia, Miedzybrodzki said making last August's event an all-female affair had denied the three men's teams vying to represent Britain at the Olympics a moment in the spotlight.
The Horse Guards Parade showpiece was an undoubted success, with the British teams of Lucy Boulton and Denise Johns and Zara Dampney and Shauna Mullin enjoying unprecedented levels of exposure.
Yet for Miedzybrodzki and his team-mate Tom Lord - together with fellow British male hopefuls John Garcia-Thompson and Steven Grotowski, and Jody Gooding and Gregg Weaver - it was another bitter pill to swallow following the decision to end their public funding from UK Sport in late 2010.
Miedzybrodzki said: "It was really sad that we didn't get to play, really disappointing, and I think a huge opportunity missed for British volleyball not to have a test event for the guys.
"It was a big opportunity to help the guys as well because that kind of media coverage is when sponsors starting taking an interest, and that opportunity wasn't given to us, and that would've helped all three of the men's teams.
"We should have been involved."
Optimism
Despite his disappointment, Miedzybrodzki is nevertheless flush with optimism for the new season after a successful winter training programme.
Twelve months ago the shock of the funding cut was still raw and results suffered as a consequence, but Edinburgh-born Miedzybrodzki believes better times are ahead.
"We were in a very good situation when we were funded by UK Sport and we had a programme with coaches, flights and accommodation paid for. We just had to play volleyball," he said.
"But when the funding went we had to focus on the financial side of it, and that's not something you want to become too concerned with.
"Ultimately it did become about money last year. We didn't play the season-opener because we couldn't afford to get out to the tournament, and also we didn't have a pre-season as we were busy trying to arrange sponsors after the funding cut.
"Last season was in some ways about surviving.
"But this season, with a really good pre-season, we are really positive."
Degree
Miedzybrodzki graduated with a degree in civil engineering from the University of Bath in 2009, a qualification he has put to good use by working part-time for Network Rail to support the considerable cost of competing at world level.
Recent focus has been on training, however, with Miedzybrodzki and Lord spending much of the winter at their Athens training base prior to a six-week acclimatisation in Brazil in the lead-up to this week's event in Brasilia.
Miedzybrodzki is confident there is little to separate the three pairs of British hopefuls, even though he and Lord are currently the lowest ranked of the teams vying for one host-nation berth.
One great result could change all that, but the 27-year-old believes consistency will be the key to winning the right to step out at Horse Guards Parade come July.
"We look at it in terms of results, and the other two teams have got one [good] result each, which makes them a little bit higher [in the rankings]," he said.
"Apart from that, there isn't much between us.
"Some good results at the beginning of this season could see us take that Olympic spot."