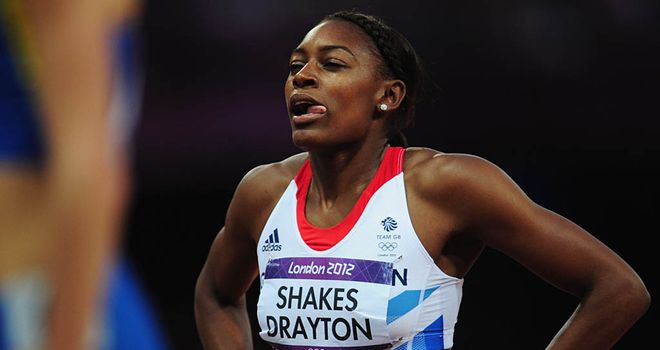 Perri Shakes-Drayton: Misses out on the final
Perri Shakes-Drayton has missed out on a place in Wednesday's 400 metres hurdles final after controversy at the Olympic Stadium on Monday evening.
The East Londoner finished third in her semi-final with a time of 55.19 seconds but, with only the top two from each three races guaranteed to go through, she faced an anxious wait for qualification.
Shakes-Drayton then fell outside the top eight after the third and final run but a few minutes later Czech Republic's Denisa Rosolova and Ukraine's Hanna Titimets were both disqualified, elevating the British youngster into the final.
However the joy was to be short-lived as Rosolova, excluded due to the placement of her trail leg, appealed against her disqualification and was reinstated in the final.
UK Athletics then took Shakes-Drayton's case to the watch referee but their counter-appeal was rejected.
Fellow Brit Eilidh Child finished seventh in the third and final semi-final in a time of 56.03 and did not qualify for Wednesday's final.
Sprint success
Meanwhile, Margaret Adeoye and Abi Oyepitan both qualified for Tuesday's 200m semi-finals after convincing runs in the first round.
Adeoye, coached by former Olympic champion Linford Christie, finished third in heat one with a personal-best time of 22.94, the first time she has ever run under 23 seconds.
On her Olympic debut, Adeoye finished behind world indoor 60m silver medallist Murielle Ahoure and Russia's Aleksandra Fedoriva.
The 27-year-old Londoner said: "I couldn't sleep last night. I kept picturing my race in my head - going over and over it, then in the morning I woke up and the picture had changed! I started panicking, but then I just did what I had in my head and I seemed to do well.
"I didn't want to disappoint the crowd. I wanted to execute for them. Linford just said to me 'run fast.' That was it!"
Athens 200m finalist Abi Oyepitan finished second in the third heat with a time of 22.92, behind Saturday's 100m silver medallist Carmelita Jeter.
Oyepitan, who didn't make it past the 100m semi-finals, said: "I could feel Sherone Simpson on my right but I knew I had second place. I eased up a bit but it was fine. I was rushing my drive phase, and that is something I will work on for the semi-final."
Disappointment
Team-mate Anyika Onuora finished fourth in heat two with a time of 23.23 in a race dominated by world number one Allyson Felix of the USA, and just missed out on a semi-final spot.
Onuora, who was an unused member of Britain's 4x100 metre team in Beijing, finished just outside the fastest loser places.
Onuora, who also failed to progress past the first round of the 100 metres on Friday, said: "Everything has been going really well, obviously I was disappointed with my 100 metres and I definitely knew I was in shape for the 200 metres. I know I'm capable of running much quicker, I just need the opportunity to go out there and do it again.
"I can only concentrate on me and my own lane when I go out there and not anyone else - you just have to concentrate on yourself. I had the experience of doing it in the World Champs last year, I just need to see how it goes this time around."