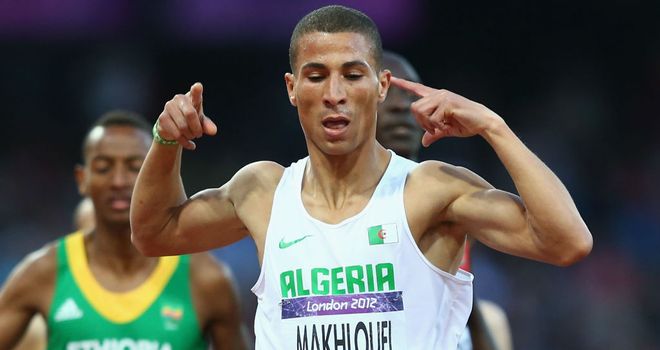 Taoufik Makhloufi: provided adequate medical reasons for his failure to finish 800m heat
Algerian runner Taoufik Makhloufi, who was excluded from the Olympics for not trying in his 800 metres heat, has been reinstated.
The 24-year-old, one of the favourites for the gold medal in the 1500m, has provided adequate medical reasons for his failure to finish the 800m, the IAAF has confirmed.
Makhloufi won his 1500m semi-final in three minutes 42.24 seconds on Sunday evening, beating Kenyan Olympic and world champion Asbel Kiprop.
He lined up again in heat five of the 800m on Monday, but went off very slowly before giving up after barely half a lap and wandering off the track.
Organisations initially threw him out of the Games for failing to provide "a bona fide effort", but that decision has now be reversed.
An IAAF statement read: "After reviewing evidence provided by a LOCOG medical officer, the disqualification of athlete Taoufik Makhloufi from further participation in the athletics competition of the 2012 Olympic Games has been revoked by the IAAF technical delegates.
"Consequently, Mr Makhloufi is able to compete in the men's 1500m final."
Makhloufi was reportedly forced to race in the 800m after Algeria failed to withdraw him from the event before Sunday's deadline.