Played at a venue fit for the Queen, beach volleyball arrives at the picturesque setting of the Horse Guards Parade from July 28 - August 9.
Aside from that fact it is played on sand and on a slightly smaller court, the rules of beach volleyball are almost identical to that of indoor volleyball.
GLOSSARY OF TERMS
Husband and wife: When a serve is sent straight down the middle of the two opponents, in the hope of causing indecision between the pair.
Roof: A block that sends the spiked effort back down towards the opponent's feet, giving them no chance of recovering it.
Dink: A shot played softly with the fingertips or knuckle, that either loops over an opponent's block or lands without pace in an open space in the opponent's court. Similar to a drop shot in tennis.
Tomahawk: An emergency defensive shot where both hands are used to hit the ball high above the head.
Two gold medals are once again up for grabs as teams of two players seek to ground the ball in the opponent's half or make their opponents hit the ball out of bounds. Both teams have three touches to return the ball, and neither player can take consecutive touches.
Matches are played in a best-of-three-sets format. The first two sets are the first to 21 points, though a two-point lead is needed to win, with the deciding set first to 15. The players change sides every seven points, or every five in the third set. The two players rotate serve. The ball it is softer, slacker and slightly larger than in indoor volleyball.
A total of 24 teams qualify through international competitions in the 18 months leading up to the Games, with a maximum of two teams from a single country.
Six groups of four play a round-robin, with the first two teams automatically through to the knock-out stages. Two of the six third-placed teams go through as well, with the other four playing off for the final two places.
History
First seen at the Olympics as a demonstration sport in Barcelona in 1992, it made its full debut at Atlanta four years later and has been dominated by USA and Brazil, who have claimed at least one gold or silver medal at every edition since.
Only Australia have beaten those two to a gold, with China, Germany, Spain, Switzerland and Canada picking up minor medals. The United States becomes the first nation to sweep gold medals in both genders in the 2008 Games in Beijing.
DID YOU KNOW?
In the 1960s, The Beatles had a quick hit between themselves on Sorrento Beach in Los Angeles, while former US President John F Kennedy was known to watch the odd game, too.
Best of British
Team GB are huge outsiders to claim a medal in either field as no British male or female combinations are placed in the top 30 beach volleyball world rankings. Zara Dampney and Shauna Mullin are Britain's highest ranked, being 37th in the world.
They will be relying on a massive boost from a parochial crowd at the Horse Guards Olympic venue. Local hopes rest with Denise Johns, a Luxembourg-born player who grew up in the US, and her partner Lucy Boulton, who moved to LA to play professionally after a background in indoor volleyball.
Steve Grotowski and Gregg Weaver represent Britain's best chance for the men, but will have to produce something extraordinary to snatch a medal.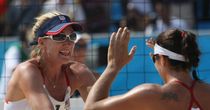 Misty May-Treanor and Kerri Walsh are the queens of the sand
Ones to Watch
In the women's field the undisputed queens of the sand are US pair Misty May-Treanor and Kerri Walsh, who became the first beach volleyball team to win back-to-back Olympic titles when they won a second gold in Beijing, that final match being their 108th straight victory in all competitions.
Olympic Greats
In a relatively new sport, current Olympic champions Misty May-Treanor and Kerri Walsh are setting new standards. Both have two gold medals to their name and have quickly developed a formidable partnership.