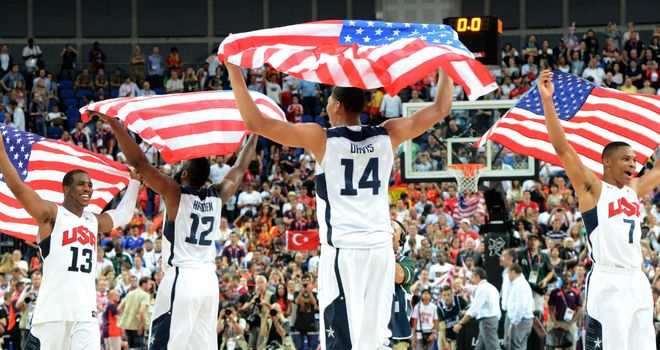 The United States men's team: Celebrate their hard-fought victory
The United States may have swept unbeaten to anticipated golds in both the men's and women's basketball at the London Olympics, yet as processions go it was anything but dull.
The American men were pushed all the way by Spain in the second closest final in history, winning 107-100 thanks to 30 points from Kevin Durant, and they were also given a heck of a game when they beat Lithuania 99-94 in the group stages.
It was more common to see them blowing opponents away, with a star-studded squad led by Kobe Bryant, LeBron James and Durant thrilling crowds with their explosive play, never more so than when they routed Nigeria 156-73 in a record score-line.
James had a rare triple double, collecting 11 points, 14 rebounds and 12 assists in the quarter-final win over Australia.
This marks the end of an era following the complete rebuilding of the team under USA Basketball chairman Jerry Colangelo after their 2004 failure when they took bronze in Athens.
Bryant is retiring from international play, and coach Mike Krzyzewski, who has a 63-1 record since taking over following those games, is stepping down.
Proud
Krzyzewski said: "When Jerry took over in 2005 it was the turning point and what he has established over these seven years has been fantastic.
"It's produced two Olympic golds, and a World Championship. It's a great run and we're very proud of it."
"When Jerry took over in 2005 it was the turning point and what he has established over these seven years has been fantastic. "
Coach Mike Krzyzewski. Quotes of the week
There were less fireworks with the women, but no less of an achievement as they rolled to a fifth straight gold, and took their own Olympic winning streak to 41 games - a run that dates back to the 1992 bronze medal game.
Only once, in their 86-73 semi-final win over an Australia team who had won silver at the last three Games, did they even play in a close game, winning by an average of 35.6 points.
Coach Geno Auriemma added: "You can't apologise for being really good.
"There's a level of expectation here to win. Maybe in other sports there isn't that same level of expectation but we're not going to start losing to make them feel better."
Explosive
Behind the American march to gold, there were plenty of great stories.
On the men's side, the unfancied Russians stormed to their first medal since the break-up of the Soviet Union behind the explosive play of Andrei Kirilenko and his exciting new Minnesota Timberwolves team-mate Alexey Shved.
Russia beat Argentina to bronze, leaving a team featuring five members of the squad that won gold in 2004 to go home - and perhaps into retirement - empty-handed this time.
Spain were disappointed in the hours after their final loss, yet can be proud of silver in a year in which they battled injuries and indifferent early form to play their part in a thrilling final.
France's Tony Parker arrived in London sporting the scars of a New York nightclub fracas that almost cost him an eye, but the team defied expectations to waltz through Group A before losing a bruising, bad-blooded quarter-final to Spain.
Lithuania missed out on a semi-final berth for the first time since gaining independence in 1990, losing to Russia in the quarters, while hosts Great Britain missed their shot at the quarter-finals when they blew a 15-point second half lead over Australia to lose 106-75, having to make do with a first Olympic win since 1948 over China.
Bronze
If the French men did well, the French women excelled.
Celine Dumerc lit up the tournament, guiding them to a stunning upset of Australia and bailing them out in an overtime game against the plucky Brits as an unfancied team came away with silver.
Australia were thrown off by that French defeat, and missed out on a fourth straight silver as they met the Americans in the semis and instead had to settle for bronze, beating Russia in the third-place game.
But there were high points for the Opals too.
Brenda Snell's half-court heave came to nothing in the overtime loss to the French, but four-time Olympian Lauren Jackson broke the all-time Olympic women's scoring record in their quarter-final win over China, surpassing Janeth Arcain's previous mark of 535, while youngster Liz Cambage scored what was thought to be the first ever dunk in women's Olympic basketball history against Russia.