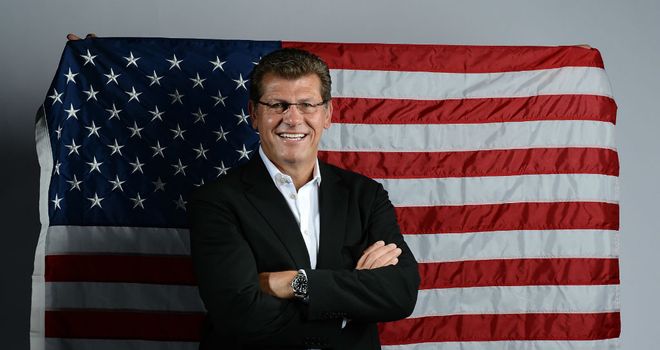 Geno Auriemma: Knows the job is not done as they need to beat either France or Russia
United States women's coach Geno Auriemma warned his team not to think their hardest task was out of the way after they battled past world number two Australia 86-73 to secure a place in Saturday's Olympic final.
In a re-match of the last three Olympic finals, Australia played some outstanding basketball in the first half to lead 47-43 at half-time but were eventually overcome by the Americans.
"The gold medal game is on Saturday, so hopefully our players don't think they've won yet. "
Geno Auriemma Quotes of the week
It was a 40th straight Olympic win for the United States, putting them one win away from a fifth straight gold medal.
However, although they have now seen off the team that has been their closest challenger for three of the last four of those medals, Auriemma knows the job is not yet done as they will need to beat either France or Russia.
Gold
Auriemma said: "Everybody on the outside always talks about us and Australia as if we're the only two teams in the tournament who are any good.
"That's certainly not the case. We knew coming into the tournament that if we wanted to win gold we would have to beat Australia, either in the semis or the final, but the gold medal game is on Saturday, so hopefully our players don't think they've won yet."
The Americans began the day having won their games in London by an average margin of 39.3 points, but very little came easy to them on Thursday as Australia fought their way into a narrow lead early in the second quarter and held it until the break.
But Lindsay Whalen gave the Americans a big spark off the bench after the break with six straight points as they began to take control.
Run
Auriemma added: "We've got some good players sitting on that bench. They're not great at everything but they're pretty good at a couple of things and when Lindsay and Seimone (Augustus) came off the bench they did exactly what they're good at.
"Lindsay's been great this whole tournament and never more so than today. In that second half we needed a run and she gave us three straight baskets - that's Lindsay."
A big key for the Americans in the second half was shutting down Australia's 6ft 8in centre Liz Cambage, still only aged 20.
She was outstanding in the first half, scoring 19 of Australia's 47 points, but then failed to make a basket after the break.
Defence
Australia coach Carrie Graf said: "She's come of age through the tournament.
"She was dominant in that first half; she finished well under pressure and handled the physicality.
"I think she got fatigued and the US adjusted their defence, double-teaming her and changing the zone, but I think she's got better and tonight she showed she's going to be a world star at some point."
Australia were up 56-55 with four minutes left in the third quarter, but that would be their final lead as the Americans built up a head of steam to the finish.
History
"Certainly in the first half it was going to game plan but we have great respect for the US depth of talent," said Graf. "We couldn't make the adjustments needed offensively when they changed their defence but credit to our team; we made a fight of it."
Diana Taurasi and Tina Charles led the Americans with 14 points each, Charles adding 10 rebounds, while Sue Bird scored 13.
Lauren Jackson, who last time out became the all-time leading scorer in Olympic women's basketball history, had 14 points while Kristi Harrower added 12 and Jenna O'Hea 10.
Auriemma said it was the best performance he had seen against his team so far.
"We've played a lot of basketball in the last month, but I don't think anybody's played better against us than Australia did in the first half," he said.
"It was an impressive display of basketball and we had no answer for that. It was incredible what they did to us."