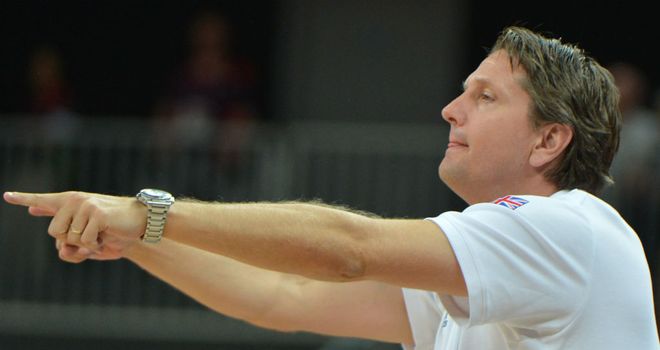 Chris Finch: Stepping down as Team GB coach
Great Britain basketball coach Chris Finch walked away on a high after helping the team claim their first Olympic victory since 1948.
The former Sheffield Sharks coach confirmed after the 90-58 win over China his intention to step down as Britain coach.
Finch, who has now risen to the rank of assistant with the Houston Rockets in the NBA, is leaving to put more focus on his career in the United States, but was able to reflect on the remarkable progress British Basketball has made since he took the job in 2006.
Back then, Britain barely registered on the basketball map as a team was formed out of the home nations with the goal of playing at these Games.
In the space of a few short years a team was constructed that may have only won one game but never looked out of place in an Olympics, where they ran far more illustrious names close.
"The odyssey has been an amazing one," he said of his time with Britain.
"The odyssey has been an amazing one."
Chris Finch Quotes of the week
"I said at the beginning the challenge was to build something here. That's what I took the job for but I never thought I'd still be here seven years later.
"We achieved a lot of things. We've kept improving ourselves and that's the most satisfying thing.
Challenge
"We answered every challenge thrown at us. We fell a little short in (the Olympics) and that's disappointing because I felt like we were in line for a breakthrough summer, but it's been incredibly satisfying personally and professionally."
Joining Finch in walking away will be two of his most senior players - with Robert Archibald retiring and Nate Reinking stepping away from international basketball.
Reinking is one of only two players in the current squad to have been with the team since its inception - and the 38-year-old has not ruled out a return at club level.
And as he talked to reporters in the wake of last night's win, he already seemed to be wavering on his retirement.
"We have been through a lot of wars together," he said through a few tears.
"It was good to go out on a win. It makes me more hungry and want to keep playing because we are almost there and I just want to get over that hill."
Archibald, a former NBA star with the Memphis Grizzlies and three other teams, walks away from the game at the age of 32.The Scot was also in tears after the game and wished to be alone with his thoughts.