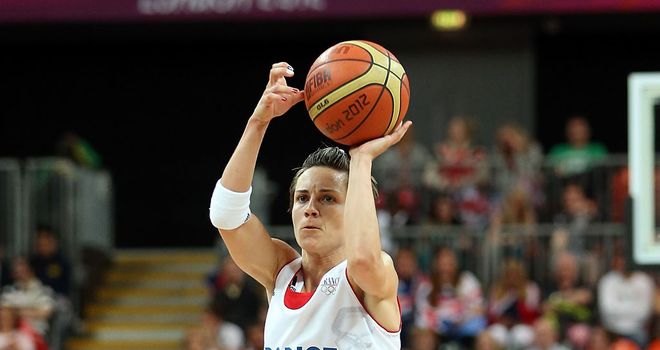 Celine Dumerc: Capped the victory for France with a late three-pointer
France will play in the final of the Olympic women's basketball tournament for the first time after pulling away late on for a comfortable victory over Russia.
Making only their second Olympic appearance, France continued an impressive Games by knocking out a Russian team ranked joint-second in the world alongside Australia, who lost Thursday's earlier semi-final to the United States.
France stormed into an early lead, and then held off several Russian rallies before dominating the final quarter.
Russia did not seem to know what had hit them early on as their opponents capitalised on early turnovers to race into a 10-1 lead, with Emilie Gomis collecting six points inside the opening three minutes.
Not for the first time in these Games, it needed the introduction of Becky Hammon from the bench to bring about a Russia revival, and the American-born guard reeled off seven quick points, hitting a three that made it 12-10 to France.
But they were still playing catch-up against the hot-shooting French, who led 24-15 at the end of the first after Edwige Lawson-Wade hit a three-pointer.
Three-pointers
Lawson-Wade stretched the lead further with three-pointers early in the second, putting them up 34-21.
Gomis' lay-up had France up 36-23 with two minutes left in the half, but Hammon's three-point play sparked an 8-2 Russia run to close the half.
Russia started the second half on a charge, and when Natalya Vodopyanova hit a pair of free throws the gap was down to 42-40.
Gomis padded France's lead with a three and another from Celine Dumerc made it 48-42.
They led 52-45 on Lawson-Wade's free throws, but Marina Kuzina kept Russia alive, hitting a big three and then making it 53-50 with a jump-shot.
But Sandrine Gruda responded with a three-point play, and when Dumerc ended the third quarter with a huge three France led 59-51.
They continued to pull away in the fourth quarter, with a big three from Lawson-Wade making it 70-56 with a little over five minutes to go.
The big shots kept coming, with Gomis making it 78-60 with 2:10 left on the clock and Dumerc capping the win with a long three late on.
40 straight wins
Earlier, USA's women won their 40th straight game in Olympic competition to move within one game of a fifth straight basketball gold medal thanks to a hard-fought 86-73 victory over world number two Australia.
In a re-match of the last three Olympic finals, Australia played some outstanding basketball in the first half to lead 47-43 at half-time but were eventually overcome by the Americans.
The Americans began the day having won their games in London by an average margin of 39.3 points, but very little came easy to them on Thursday as Australia fought their way into a narrow lead early in the second quarter and held it until the break.
A big key for the Americans in the second half was shutting down Australia's 6ft 8in centre Liz Cambage, still only aged 20.
She was outstanding in the first half, scoring 19 of Australia's 47 points, but then failed to make a basket after the break.
Australia were up 56-55 with four minutes left in the third quarter, but that would be their final lead as the Americans built up a head of steam to the finish.