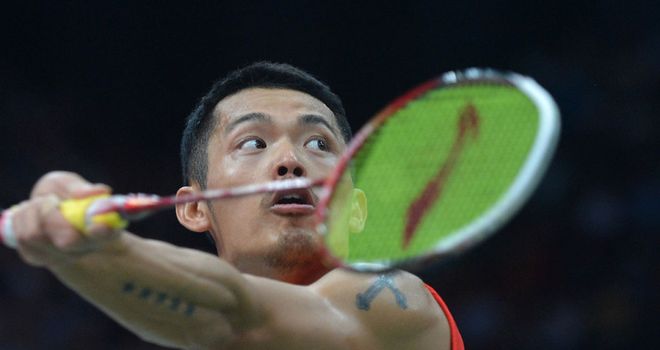 Lin Dan: Successfully defended his Olympic crown with victory over Lee Chong Wei
The great Lin Dan successfully defended his Olympic crown with another thrilling victory over arch-rival Lee Chong Wei in the London 2012 men's singles final.
In a performance that surely ends debate over whether he is the greatest player ever, the Chinese superstar dug deep in a compelling third game to win 15-21 21-10 21-19.
Malaysia's world number one Lee played a full part in an epic contest but was unable to avenge his defeats in the finals at Beijing 2008 and last year's World Championships.
Lin's victory, completed in 79 energy-sapping minutes, made him the first man to retain an Olympic singles title.
Some of the rallies were extraordinary with both players fully committed in defence and attack.
Lee, who in any other era might have won a handful of major titles, started superbly in his quest to finally get the better of Lin on the grandest stage.
Errors
However, some unforced errors crept into his game early in the second set and allowed Lin to take the match into a decider.
Lee eked out an 8-5 lead and thought he had taken the next point but a line judge was overruled on close call and the score became 8-6.
Lin quickly pulled level and the pair traded points until the Chinese snatched victory on his first match point and set off on a lap of honour.
Meanwhile, Lee Hyun-il of South Korea lost the bronze-medal playoff in a second straight Olympic Games on Sunday, and accepted his fate with a calm resignation.
Lee's hopes were dashed, as in the Beijing Games, by another 22-year-old China has groomed to succeed the great Lin Dan.
Teasing
Chen Long won 21-15, 15-21, 21-15 in 80 minutes of mainly feathery net play and teasing drops.
Four years ago in Beijing, Lee lost to Chen Jin then retired. But South Korean officials persuaded him to play again to help the undermanned 2010 Thomas Cup team.
Lee said: "I just challenged myself again to try to get a medal this time. I didn't achieve my aim but it has happened and I cannot do anything to change it.
"I tried my best and I played as well as I can so I don't have any regrets about the match. I now feel relieved it is all over."
Cai Yun and Fu Haifeng later completed a Chinese clean sweep of the badminton golds with victory in the men's doubles final.
The top seeds edged out Denmark's Mathias Boe and Carsten Mogensen 21-16 21-15.
Boe complained that the umpire had not spotted that one of his shots had hit a Chinese player on its way out at a crucial juncture of the second game.
But in truth the Danes were distinctly second best throughout and Cai and Yun fully deserved their victory.