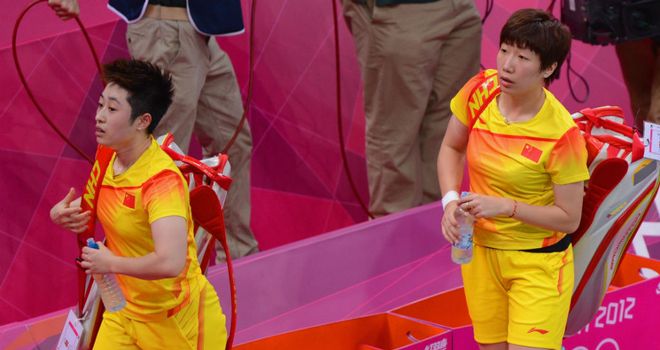 Yu Yang (R): Says she will quit badminton following Olympic disqualification
One of the Chinese badminton players involved in the match-throwing scandal at the Olympics has announced that she will retire from the sport.
Yu Yang and her partner Wang Xiaoli were one of four pairs who were disqualified from the Games after attempting to lose a group contest in order to get a more favourable draw for the knockout stages.
The 26-year-old Yu, who won a gold medal in the 2008 Beijing Olympics, and Wang were thrown out of the women's doubles tournament for "not using one's best efforts to win a match".
Yu and Wang both apologised to fans and pledged to give their best in future matches, but the former has now said that she is quitting badminton.
"This is my last time competing. Goodbye Badminton World Federation, goodbye my beloved badminton. You have heartlessly shattered our dreams," Yu wrote on Weibo, a social network site.
Disqualified
The controversy also saw the BWF disqualify two South Korean pairs and one Indonesian team after they responded to Yu and Wang's antics by also attempting to lose.
Their places in the draw were taken by pairs from Russia, Canada, Australia and South Africa, with the Russians set to play second-seeded Chinese duo Tian Qing and Zhao Yunlei, who the disqualified teams were trying to avoid, in the semi-finals.
Meanwhile, Chinese head coach Li Yongbo has stated that he is the one that should be held responsible for the farce.
"As head coach, I owe the supporters of Chinese badminton and the Chinese TV audiences an apology," he told Chinese news agency Xinhua.
"Chinese players failed to demonstrate the fine tradition and fighting spirit of the national team. It's me to blame."