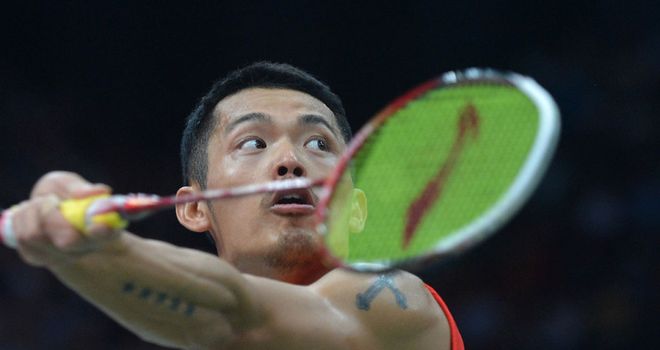 Lin Dan: Comfortable victory over Evans
China's badminton star Lin Dan launched his Olympic title defence with an emphatic victory over Ireland's Scott Evans.
Lin, widely regarded as the greatest player of all time, was barely extended by the Dubliner as he eased to a 21-8 21-14 win in their first-round match at Wembley Arena.
The victory sees Lin go straight through to the last-16 knockout phase at London 2012 as the pair were the only players in Group P.
Evans had described the match as the biggest of his life and made a confident start as the crowd, with no Britons to cheer all day, got behind him.
The world number 76 hit a couple of good winners in the opening exchanges but Lin, despite playing well within himself, soon asserted his authority.
A run of seven unanswered points put Lin, seeded only second behind his great rival Lee Chong Wei, in command.
He controlled the rallies with ease and often only had to wait long enough for Evans to hit the net.
Evans did break through occasionally with some fine cross-court shots, much to the delight of those watching, but it did not delay the inevitable Lin victory for long.
Tough
Evans felt he did not do himself any favours during the 34-minute contest. The 24-year-old said: "I thought it went horrendously. You have to be at the top when you play Lin Dan, he is the best ever to play badminton.
"If you are a little bit off your best you are going to have a hard day, and I had a hard day.
"I was a little bit stretched all the time because he is on the shuttle all the time.
"He is just unbelievable. He doesn't make errors at all and if you give him a chance he just takes it every time."
Lin gave the impression that he was holding himself back for tougher contests ahead.
He said: "It is only the first match and there are still strong opponents to come in the next matches, so I will continue to give it my all."