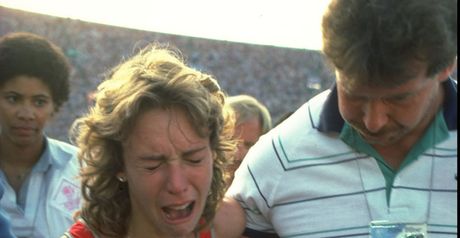 Decker is distraught following her accidental clash with Budd
The Olympic Games are often remembered outstanding sporting achievement, but sometimes it can be the low points that grab the headlines. Skysports.com takes a look back at some of the Games' darker days.
Munich Massacre
September 5, 1972 was the darkest day in Games history as a bungled operation to free Israeli athletes taken hostage by Palestinian terrorist group Black September led to the death of 11 athletes, five terrorists and a policeman.
Boycotts
Political protests have struck the Olympics several times in its modern history, including 1956 and 1976. The most recent boycotts were in Moscow 28 years ago when the USA, West Germany and Japan refused to take part in response to the USSR's invasion of Afghanistan - prompting the Soviets to do likewise in Los Angeles four years later.
Professionalism
Until 1981, any athlete deemed to be a professional received a lifetime ban from the Games. Paavo Nurmi, the Finnish long-distance runner who won nine golds in the 1920s, was possibly the highest-profile victim of the rule - making him an even bigger hero in his homeland.
Drugs
Tests were introduced in 1964, although their initial effectiveness is open to question given what is now assumed to be the widespread doping of Eastern Bloc athletes in the 1960s and 1970s. The biggest scandal occurred in 1988 when Canada's 100m runner Ben Johnson claimed gold with a world record in Seoul, only to be stripped of his medal after testing positive for steroids.
Zola Budd v Mary Decker
Budd, a barefoot South African persuaded to run for Britain, much to the unhappiness of anti-apartheid protestors, clipped the heels of the American during the 3,000m final in Los Angeles in 1984, causing both to fall. Decker left the track in tears and the boos of the crowd unnerved Budd, who failed to win a medal.
Michelle de Bruin
The Irish swimmer shocked the world to win four medals, including three golds, at the Atlanta Games in 1996. She was shunned by suspicious rivals, despite her claims of innocence, but was banned for four years in 1998 after being found guilty of tampering with a urine sample.
Officials
The host nation always performed best in the early Games, perhaps unsurprisingly given that all officials were drawn from the same country. In 1908 the USA team complained of the favourable treatment afforded to British competitors in London, and from then on the IOC insisted on using officials from around the world.
Atlanta Bomb
Two people died and 111 were injured after an explosion in Centennial Park during the 1996 Games. The prime suspect, right-wing extremist Eric Rudolph, remained on the run until 2003, but he later admitted his role.
Gifts for Votes
Six IOC members were expelled and four resigned in 1998 after being found to have accepted gifts in exchange for backing Salt Lake City for the 2002 Winter Games. Members have since been banned from visiting candidate cities.
Kenteris and Thanou
Greek runners Kostas Kenteris and Katerina Thanou both tasted gold at Sydney in 2000 and were expected to star in their homeland four years later. But they were withdrawn on the eve of the Games in Athens after missing a drugs test and were later found to have faked a motorbike accident in an attempt to mitigate their absence.