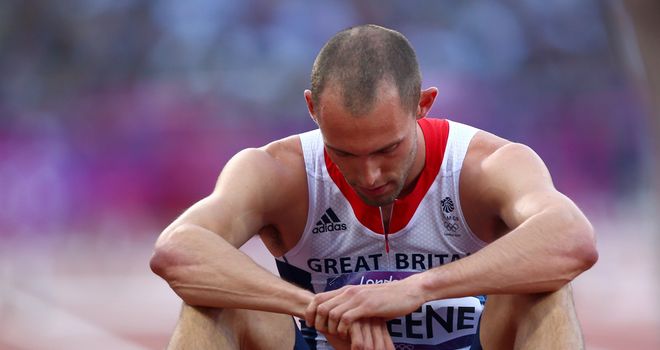 A dejected Greene before he got the positive news
Team captain Dai Greene scraped into the Olympic final of the 400 metres hurdles in a dramatic start to an evening which was expected to bring the British team's first athletics medals.
World champion Greene lay on the track with his head in his hands after crossing the line fourth in the opening semi-final, with only the first two qualifying automatically and the next fastest two from all three semis also reaching Monday's final.
That meant an anxious wait for the 26-year-old Welshman to see if his time of 48.19 seconds would be good enough - a wait which ended when a massive roar from the 80,000-strong crowd confirmed he had enjoyed a lucky escape.
However, there was bad news for Greene's training partner Jack Green, who clattered into the third hurdle in the second semi-final and crashed to the track.
The 20-year-old looked to have suffered an injury in the fall but was fit enough to get to his feet, pick up the offending barrier and slam it into the track.
European champion Rhys Williams also missed out after finishing fourth in the last semi-final in 49.63 secs, while 2004 Olympic champion Felix Sanchez was the fastest qualifier in 47.76 - the quickest time in the world this year - ahead of previous world number one Javier Culson, who clocked 47.93.