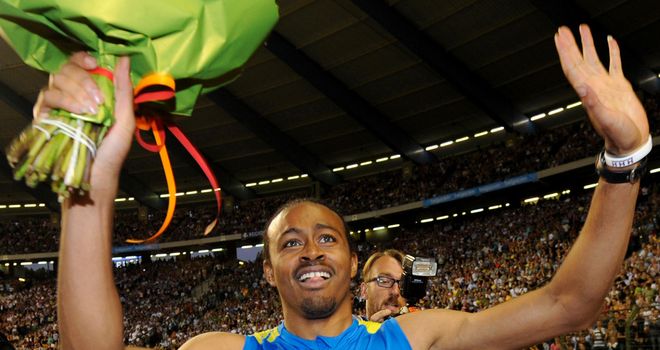 Aries Merritt: Ran 12.80 seconds in the 110 metres hurdles to post a new world record
Olympic champion Aries Merritt finally broke Dayron Robles' four-year-old 110 metres hurdles world record with a run of 12.80 seconds at the Diamond League meeting in Brussels.
The American had been pushing Robles' record all season and recorded seven runs under 13 seconds before finally eclipsing the Cuban's mark on Friday night by seven hundredths of a second.
Merritt expressed surprise at the extent of his victory, ahead of American Jason Richardson in second place on 13.05secs, and Jamaican Hansle Parchement who ran 13.14 for third.
Merritt told the BBC: "I can't believe I ran that fast - I'm in shock.
"I was focused on running under 13 for one last time to cap off a really good season, and I obliterated it. When I crossed the line and saw the time I was still in shock.
"I'm so happy I'm finally living up to my potential after all this time with injuries and hamstring tears and so many people telling me I should throw in the towel and get a normal job."
Bolt feeling fatigued
Usain Bolt finished his season by winning the 100m in 9.86 seconds, ahead of fellow Jamaicans Nester Carter and Kemar Bailey, but admitted fatigue was starting to prove a big factor.
Bolt, who recovered from a shoddy start to lead home the field, said: "I'm so tired, I just feel drained and I went through the motions pretty much - it was an okay race and I didn't lose so that's good.
"To go to the Olympics and push yourself drains you mentally because people are saying that maybe you'll lose. Coming to the end of the season, your level just goes way down."
Bolt's compatriot and training partner Yohan Blake eased to victory in the 200m in a sparkling time of 19.54.
Britain's Perri Shakes-Drayton had to settle for second place in the women's 400m hurdles just behind winner Kaliese Spencer, who recorded a time of 53.69.