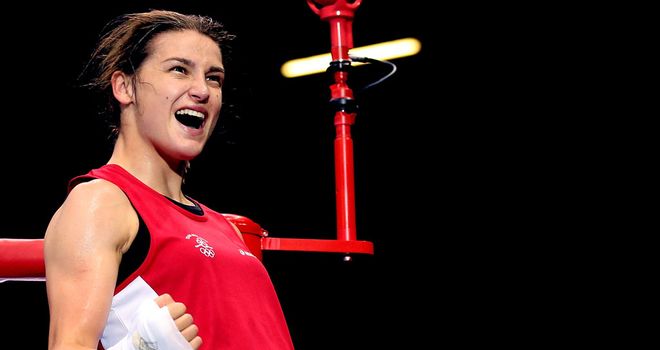 Katie Taylor: Wins Olympic gold for Ireland
Ireland's Katie Taylor added Olympic gold to her four World Championship titles at London 2012 - but she was made to work hard for her 10-8 win over Russia's Sofya Ochigava amid an extraordinary atmosphere at ExCeL.
With the decibel levels surely hitting new heights, Taylor set about business in her usual way, pushing forward and flinging right hooks at Ochigava, a tough, two-time former world silver medallist.
But it soon became clear Taylor was in for a test as the Russian matched Taylor's strength inside and clinched up close to prevent the overwhelming Irish favourite from getting off her usual array of big shots.
Taylor's frustrations continued in the second, which Ochigava edged to take a 4-3 lead at the halfway stage, but the Bray star stayed patient and scored with a right to the Russian's chin and a superb countering left which turned the fight her way.
Heading into the last with a 7-5 lead, Taylor still had a fight on her hands as the Russian muscled forward, landing two clean rights, making the wait for the verdict a surprisingly anxious one for Taylor and her fans.
The chaotic stands were already a heaving patchwork quilt of green, white and orange when the comeback win was confirmed.
After hugging her Russian opponent Sofya Ochigava, Taylor embraced her father and trainer Peter and then saluted her devoted fans.
She then unfurled an Irish tricolour and draped it round her shoulders, prompting more bedlam in the crowd.
Irish boxing hero Barry McGuigan hugged the lightweight gold medallist as she descended from the ring.
After Taylor departed, the "Clones Cyclone", with tears in his eyes, paid tribute to the fans.
"You've been incredible," McGuigan said on the microphone, speculating that there was no one left back in Ireland.
American dream
American 17-year-old Claressa Shields rounded off a magnificent women's competition by beating Nadezda Torlopova of Russia 19-14 to claim middleweight gold.
Shields dominated the bigger, former world champion to claim a popular win and said she had been spurred on to succeed after watching the US men's team fail to secure a medal for the first time in Games history.
Shields said: "It's unbelievable - I was surprised I didn't cry. I feel the USA needs it. I'm glad someone won that gold medal, but I represent myself and them in the ring.''