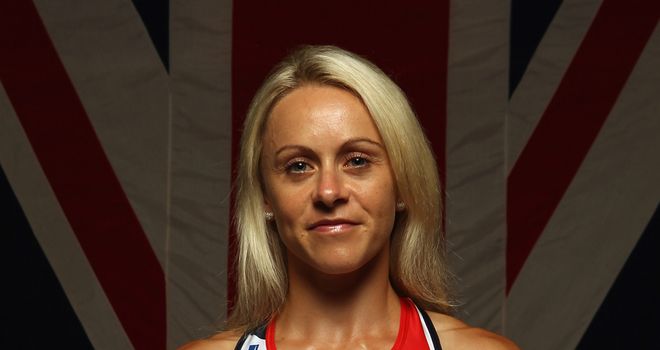 Jenny Meadows: Will not appeal against Olympic decision
Jenny Meadows will not be appealing the decision the leave her out of the Olympics after she was omitted from the GB athletics squad for London 2012.
UK Athletics decided to go with Lynsey Sharp as the lone British name in the women's 800m event at London 2012, with Charles van Commenee explaining that she was the runner in form and most likely to perform well.
Sharp, however, has not secured an 'A' standard time and rules dictate that picking someone with only the 'B' standard means you cannot then select anyone with an 'A' time.
That ruled out not only Meadows, but also Marilyn Okoro, Emma Jackson and Jemma Simpson who had all bagged the 'A' standard during the qualifying period.
However, none of them stepped up in recent races, with Meadows not running in 2012 due to injury and Okoro running a nightmare trials when she went out far too hard and trailed home way back.
Appeal
Meadows had said that she would appeal instantly if she was left out of the team, but it now looks as though she has had a change of heart and has decided not to pursue the matter.
"Lynsey must be so pleased and proud of herself - and I wouldn't want to take that away from an athlete," she told Sky Sports News.
"If I appealed I'd be taking it away from her and I wouldn't appreciate that being done to me.
"I've got my own little agenda now. I'd love to end 2012 on a positive note, I owe that to myself and my team.
"I've worked really hard but that's the personal challenge I need to concentrate on now."
Van Commenee took a hard-line stance at his media conference when he said the lack of good performances from those with 'A' times led to them being left out in favour of in-form Sharp.
Own fault
"I mentioned it was a selection meeting that took six hours. Two hours of those six were spent on one event, the 800m women," van Commenee said at the selection media conference.
"There were five women in contention, basically, four of them had notable 'A' standards, one, Lynsey Sharp, had a few 'B' standards. The panel had to decide whether to go for one athlete with 'B' standards, or one, two or three on 'A' standards.
"After all the deliberations, thoughts and arguments were compared, it was decided that most important is to have the right performance at the right time. Lots of people had the right performance at the wrong time.
"Lynsey Sharp has done very good business recently and performed at the trials, beat everybody, did very well at the European Championships, beat athletes who have run 1.57, 1.58, 1.59...she beat Jemma Simpson on both occasions, and we decided that Lynsey Sharp is the one with the best current form.
"This was difficult basically because not one of these athletes actually took control of their own destiny. The athletes made it difficult by not doing what they're supposed to do. Once a selection panel has to spend two hours on selection, that's already a bad sign.
"The panel is convinced the athlete is selected who has the best chances to perform at the Games."