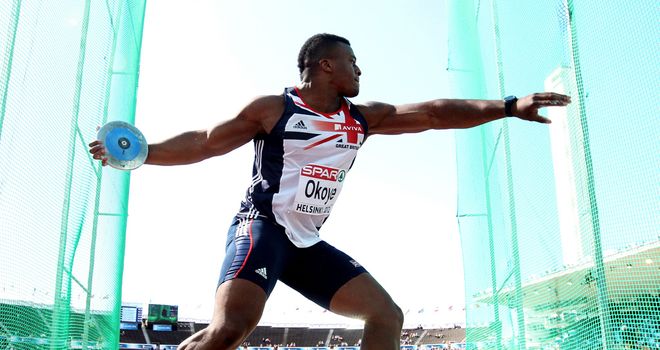 Lawrence Okoye: Qualified for his first major championship final in Helsinki
Great Britain's Lawrence Okoye breathed a sigh of relief after qualifying for his first major championship final in Helsinki.
Okoye, who has deferred a place at Oxford to study law to focus on athletics, rose to prominence last year with a British record of 67.63 metres in the discus which suddenly saw the Londoner - only 19 at the time - being tipped for a gold medal at London 2012.
Such talk appeared premature when the former rugby player failed to qualify for the World Championships just a few weeks later though. However, the 20-year-old has proved more consistent this year, improving his national record to 68.24m in May and qualifying for the Olympics at last weekend's trials.
"I've definitely got more to come. "
Lawrence Okoye Quotes of the week
A second-round effort of 64.86m in qualifying on Friday morning comfortably proved enough for Okoye to advance to Saturday's final at the European Championships.
Focused
Okoye said: "I've definitely got more to come. Qualifying is all about just getting through to the final, it's probably the toughest part of the championship so I'm glad I got through pretty well. It'll be fun competing with the world champion (Germany's Robert Harting) and hopefully I will do something good.
"I'm fully focused on competing well. This is a big championship for me, it's the perfect dress rehearsal for the Games. It's going to be fun and interesting to see how I cope so that (qualifying) bodes well for London."
Team-mates Brett Morse (58.71m) and Abdul Buhari (58.57m) failed to qualify for the final, with Morse strangely claiming he "actually threw pretty well" despite two fouls.