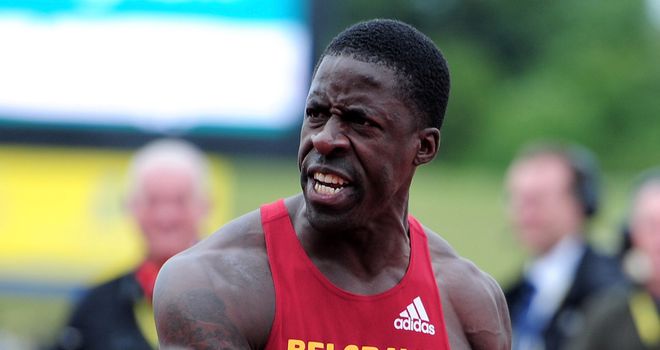 Dwain Chambers: Emotional win in Birmingham
Dwain Chambers bagged an emotional victory in the 100m of the UK Olympic Trials in Birmingham, but it was teenager Adam Gemili who was the only one to officially secure his London 2012 place in that event.
Also on Saturday there were good performances from Dai Greene and Jack Green who qualified for London 2012 in the 400m hurdles, while Christine Ohuruogu stormed to an impressive success in the women's 400m.
34-year-old Chambers was the essence of grit and determination as he strained ever sinew to come home in front in the 100m final in a time of 10.25 seconds to edge out Gemili, with James Dasaolu in third.
Speedy Gemili going good
Only Gemili and Dasaolu currently have the qualifying standard of 10.18secs and now Chambers has until July 1 to run the time and confirm his place.
Chambers exploded with delight after he crossed the line, and although he spoke of his relief at winning the trials he now has just one chance at next week's European Championships in Helsinki to achieve the qualifying time.
Teenage talent
Gemili, who came from nowhere to become the second fastest man in Europe this year when he clocked 10.08s in Germany earlier this month, has always insisted that his main priority is next month's World Junior Championships in Barcelona.
The 18-year-old still plans to compete in Spain from July 10-15 in both the 100m and 200m, but took advantage of an exemption from the junior 100m trials last week to conserve his energy for this weekend.
The final of the men's 400m hurdles lived up to its billing as one of the best races of the weekend, with five of the eight finalists having achieved the 'A' standard.
World champion Dai Greene shrugged off some poor early season form to claim victory, with training partner Jack Green also securing his place on the team for London with a late surge to overtake Nathan Woodward and take second.
"It's nice to finally make my first Olympic team," said Greene. "It will be a great experience this summer. I will be in great shape by the time the Olympics comes around. I have a few things to work on so it's very promising."
Defending Olympic champion Ohuruogu and Shana Cox secured their places in London by finishing first and second in the 400m respectively, while Greg Rutherford and Steve Lewis will also be in London after winning the long jump and pole vault respectively.
Further qualifiers came in the 1,500m with Andy Baddeley and Ross Murray finishing first and second, while Tiffany Porter sealed her place in the 100m hurdles despite finishing second to heptathlon star Jessica Ennis, who had earlier also won the high jump title with 1.89m.
However, things were far less clear in the women's 800m where Marilyn Okoro and Emma Jackson had the 'A' standard but finished fifth and seventh in the final, with Okoro paying for a suicidal early pace.
Scotland's Lynsey Sharp was a surprise winner ahead of Jemma Simpson, but both will need to run the qualifying time by July 1 to claim their place in the team.
And there was bad news for world junior champion Jodie Williams, who left the track in tears after pulling up with an apparent hamstring injury 15m from the line in the women's 100m final.