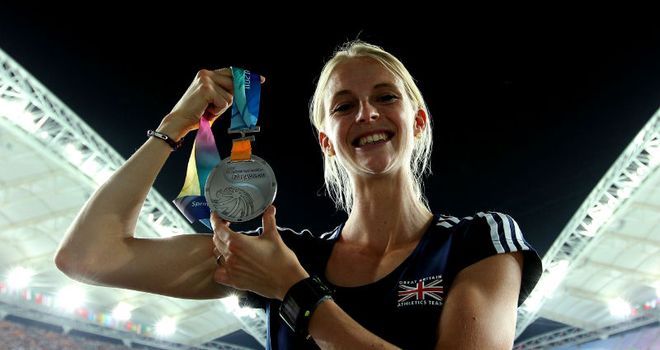 Hannah England
Her beaming smile as she crossed the line was the picture most will remember from the 2011 World Championships in Daegu - the day Hannah England became a silver medallist.
The Oxford athlete produced a stunning display in the 1500m, shocking even herself with the end result.
The 24-year-old runner, coached by Bud Baldaro, became involved with athletics aged 13 after coming third in a school competition. She then joined Oxford City Athletics club, giving up cricket in the process to devote more time to running.
In 2004, she was chosen to be one of the first members of the 'On Camp with Kelly' programme. The initiative, headed by double gold Olympic medallist Dame Kelly Holmes, has helped England every step of the way. Dame Kelly has become a close friend as well as mentor to England, following each of her races at the recent championships in Daegu.
She won the 2006 National Junior Championships in the 1500m. Whilst studying for a year at Florida State University, England became a double NCAA Champion in the 2007-8 season.
She was not chosen for the Beijing Olympics in 2008 but finished fourth at the European Team Championships in 2009, in both the 800m and 1500m. She then followed this up with a fourth place finish in the 1500m at the Commonwealth Games in Delhi in 2010.
It was in this year that Hannah received an 'On Camp with Kelly' Outstanding Achievement Award. This was given in recognition of her performances at the Commonwealth Games and European Championships.
However, undoubtedly England's most successful season so far has been 2011. She set a lifetime best, 4:01.89, in Barcelona for the 1500m in July, before making it into the World Championship final in Daegu, South Korea.
She then delivered an outstanding performance, coming from seventh going into the home straight and slowly passed all runners, bar America's Jennifer Barringer Simpson, to take the silver medal. This has made her a hopeful prospect for the podium at next summer's London Games.