Finland's middle and long-distance legend Paarvo Nurmi won nine Olympic gold medals in six different events at the Antwerp Games of 1920, Paris 1924 and Amsterdam in 1928.
Incredibly his haul of five golds in Paris - the most ever achieved by a track and field athlete at a single Games - included the 1,500m and 5,000m titles within the space of two hours.
Ray Ewry famously won eight gold medals in standing jumping events across three Games - Paris 1900, St Louis 1904 and London 1908 - but in 1996 Carl Lewis became the only other American to top the podium more times than him in athletics.
He first shot to stardom at the Los Angeles Olympics of 1984 when by winning the 100m, 200m, long jump and 4x100m relay to match the feat of Jesse Owens, who stole the show under the gaze of the Nazi hierarchy at Berlin 1936.
Lewis went on to win nine golds and joined discus thrower Al Oerter as the only track and field athletes to win the same event four times in a row with victory in the long jump in Atlanta 1996 - the same Games at which Michael Johnson achieved an unprecedented 200m/400m double.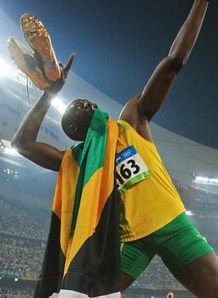 Usain Bolt breaking records
Usain Bolt soared to Olympic immortality in Beijing when clocking unbelievable world best times of 9.69 for the 100m and 19.30 in the 200m while he was also part of the Jamaican team which set a 4x100m relay record of 37.10. As a result he became the first man ever to set world records in all three events at a single Games.
Haile Gebrselassie and his 'successor' Kenenisa Bekele are two all-time Olympic greats over longer distances having ensured the 10,000m gold has belonged to Ethiopia since 1996 while Bekele doubled up in Beijing 2008 with glory over 5000m.
Sprinter Fanny Blankers-Koen is widely regarded as the finest female Olympian. 'The Flying Housewife' from Holland was the heroine of the 1948 Olympics in London with golds in the 100m, 200m, 80m hurdles and 4x100m while she was also voted female athlete of the last century.
Flamboyant American sprint queen Florence Griffith Joyner - nicknamed Flo Jo - is another female legend having won three golds and a silver at Seoul 1988, including the sprint double. She still holds the 100m and 200m world records to this day and neither look like being broken anytime soon.
Compatriot Jackie Joyner Kersee is the greatest heptathlete of all time and the 7291 points she scored in Seoul, where she also won long jump gold, remains the world record. She went on to retain her combined-event title in 1992.