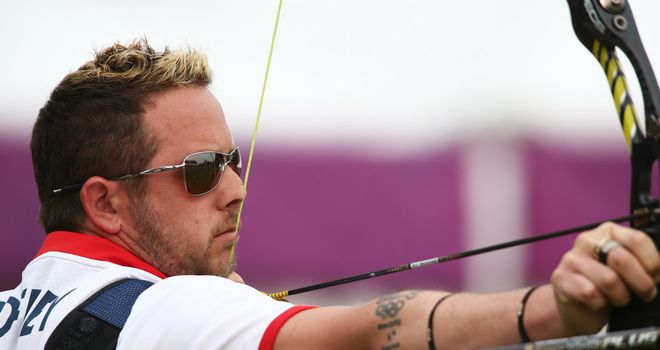 Larry Godfrey: Last-16 exit
Great Britain's hopes of an Olympic archery medal are over after Larry Godfrey was beaten in a one-arrow shoot-off.
The last remaining British competitor in the archery events, Godfrey lost his individual last-16 battle with Khairul Anuar Mohamad at Lord's by the narrowest of margins.
After the score over five sets was tied at 5-5, Godfrey hit a nine in the sudden-death scenario and then watched as his Malaysian opponent nailed a dead-centre 10.
In regular play, Godfrey, who finished fourth at the Athens Games of 2004, fell behind early on when a seven proved costly in the opening set as he fell 2-0 down.
The second set was shared - but only after Mohamad saw an initial eight upgraded to nine by the judges - and Godfrey levelled the contest at 3-3 by scoring 29 out of a possible 30 in the third.
Hope
The Briton won the fourth set too to move within touching distance of the quarter-finals.
However, a pair of 10s from Mohamed in the fifth set saw him take it to force the shoot-off.
"What can you do? I went out there and gave it my best,'' said Godfrey, who had already won two knockout rounds.
"You have to live in hope that it is your day and it quite easily could have been, but it was his day instead: that's archery.
"I've done everything I possibly could and ticked every single box. I can go away from here feeling happy in that respect but obviously I'm disappointed not to get a medal - that's my third Games now and still no medals.
"It's a shame but I'm glad I was in the pot. I didn't just come here for the t-shirt, I came here to try and compete and I think I did that to the best of my ability.
"I set a personal best in qualifying (680 points from 72 arrows), I won the first two rounds and I got knocked out on a one-arrow shoot-off.
"It's not as if he spanked me 6-0. I'm happy with how it's gone, just disappointed there is no medal at the end of it.''