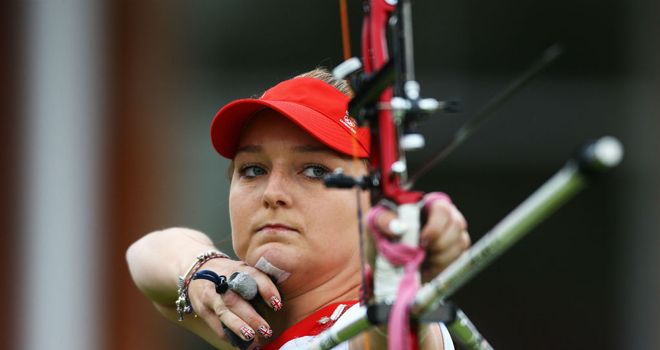 Amy Oliver: Beat world number one Deepika Kumari before bowing out
Rotherham archer Amy Oliver secured the best win of her career to defeat world number one Deepika Kumari before exiting the women's competition in the second round.
There were also defeats for Alan Wills and Simon Terry lost in the first and second round respectively, meaning the last hope of a home medal lies with Larry Godfrey.
"I'd say at this moment in time that (beating Kumari) is the highlight of my career."
Amy Oliver Quotes of the week
Oliver, 25, had technical problems in last week's ranking round, leaving her 57th in the draw and up against one of the tournament favourites in the first elimination.
But she pulled off a massive upset in front of a sold-out Lord's to see off Kumari 6-2, closing out the match with back-to-back 10s.
She declared the result - which included three maximums and just two shots outside the gold rings - the pinnacle of her sporting life but was unable to follow it up in the last 32 as an erratic first six arrows put her on course for a 7-1 defeat by Ika Yuliana Rochmawati.
Highlight
While that result may have been a disappointment, Oliver leaves her first Olympic Games with a memory to cherish.
"I'd say at this moment in time that (beating Kumari) is the highlight of my career," commented Oliver.
"I've won medals in other competitions before but this was better. There were so many people in the crowd and it was really nice to have all that support. I've never had that before."
Oliver was unaware her achievement came on the annual celebration of her home county, but was happy to dedicate it to the cause.
"I didn't know it was Yorkshire Day until now, that's brilliant!" she added. "I did see a Yorkshire Rose in the crowd, though, so I knew they must have come from there."
Interest over
Oliver's exit ended Team GB's interest in the women's draw.
Like Oliver, Naomi Folkard fell in the last 32 on Tuesday, while six-time Olympian Alison Williamson lost her first elimination match.
Terry, ranked 50th, did manage an upset of his own in his first match, the bronze medalist from 20 years ago putting out 15th seed Yu Ishizu.
However his form deserted him when he came up against precocious 15-year-old Dan Olaru of Moldova, who hit five 10s in his 12 arrows.
Wills, meanwhile, was unfortunate to lose to Australia's Taylor Worth; the Cumbrian twice came from behind to get to 5-5 but was then pipped in a one-arrow shoot-out, hitting a nine when his opponent managed a 10.
"I was happy to fight back and get a shootout and then my shot was maybe 5mm off the 10. It happens," he said.