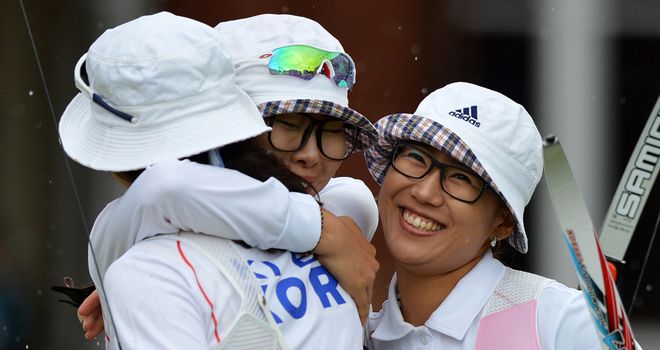 South Korea celebrate winning gold
South Korea won a seventh consecutive women's team archery Olympic gold medal with victory over China at Lord's.
They have triumphed at the competition at every Games since it was added to the schedule in Seoul in 1988 and extended that proud tradition in London.
Lee Sung-jin, Ki Bo Bae and Choi Hyeonju defeated Chinese trio Cheng Ming, Fang Yuting and Xu Jing 210-209 in wet and windy conditions reminiscent of those that blighted the gold medal match between the nations in Beijing four years ago.
It is third time in a row China have finished in the silver medal position behind the Koreans, though none of the archers involved four years ago are on duty in London.
The match was decided on the last arrow, when Ki needed at least nine to secure victory. She duly hit the outer gold to cue wild celebrations with her team-mates.
The bronze medal match was won by Japan, who defeated Russia 209-207 to claim the first women's archery medal in their history.
Ren Hayakawa, Miki Kanie and Kaori Kawanaka came all the way through the draw - having just missed out on a first-round bye - defeating world number threes Ukraine 207-192 and Mexico 219-209 in the quarter-final.
Early exit
Earlier Great Britain lost their first-round match against Russia at Lord's.
The exit of six-time Olympian Alison Williamson, Naomi Folkard and Amy Oliver completes a disappointing couple of days for the hosts after the men's trio also fell at the first hurdle on day one.
Russia, ranked 10 places above Great Britain in the world rankings were 215-207 winners, coming back from a shaky start that saw them concede a four-point deficit after the first end.
"I had a dodgy last arrow which doesn't help but the conditions are perfect, that was all me."
Naomi Folkard Quotes of the week
An uncharacteristic four from Folkard, who had otherwise shot well, sealed the loss in the final end.
Disappointing
"It's disappointing," said Folkard. We had a strong start and they just caught up with one end to go.
"I had a dodgy last arrow which doesn't help but the conditions are perfect, that was all me.
"I don't think by then we'd have won even if I'd shot 10 so I guess that makes me feel slightly better.
"We knew we had to shoot well against them because they're a good team, but the score they got...we know we can do better than that."