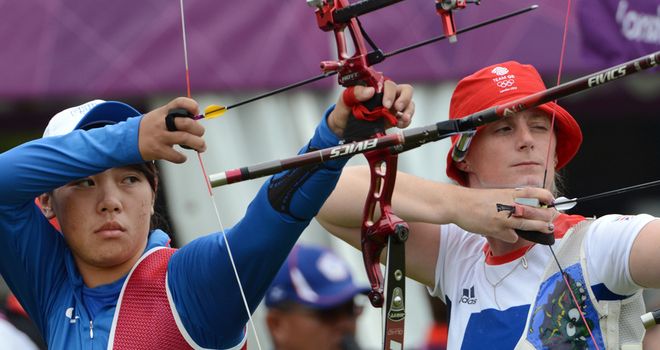 Naomi Folkard was Team Gb's highest ranked archer
Great Britain's chances of a medal in women's archery suffered a blow after a disappointing ranking round at Lord's on Friday.
With 64 female archers shooting 72 arrows apiece to earn their seedings for the individual and team events, Naomi Folkard was Team GB's highest-ranked participant in 42nd place.
The Kidderminster-based 28-year-old scored 637 from a maximum 720, with six-time Olympian Alison Williamson in 47th place after scoring 629 and Amy Oliver placing 57th with a total of 608.
The pacesetters were South Korean duo Bo Bae Ki and Ya-Ting Tan of Chinese Taipei who were tied on 671 points.
Folkard confessed to being slightly frustrated not to have shot a better total but was happy with how she felt and is positive about her prospects in the coming days.
"The score maybe wasn't ideal, so I'm a bit disappointed with that, but I kept going through the right mental processes and I'm pleased with the way I shot," she said.
"There were just a couple of ends where my group wasn't good enough. I have a day tomorrow to work on it then we go again in the team event on Sunday.
"You have to be confident going into the head to heads and if you're feeling good that's going to give you more confidence.
"Feeling good (about my game), for me, gives more confidence than just a good score. I know I'm shooting really well, I just have to put it all together."
With a combined total of 1874 from 216 arrows, Great Britain were seeded 11th out of 12 nations in the team event.
The knockout stages of that event are next for the trio on Sunday, when they face Russia in the round of 16.
That will be viewed as a winnable match but their quarter-final opponents would then be third seeds Chinese Taipei, who placed third and received a bye to the last eight.