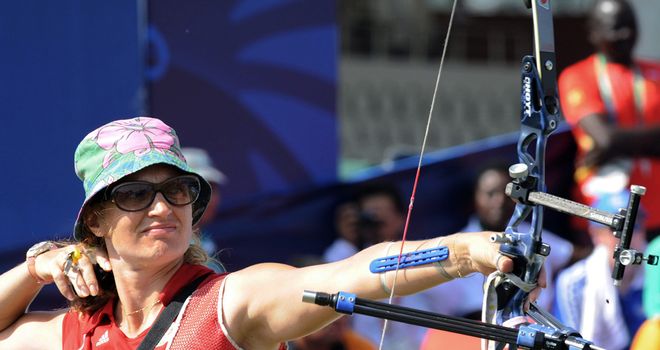 Alison Williamson: Has been praised by Andy Hunt
Andy Hunt, Team GB chef de mission, has hailed Alison Williamson's dedication and longevity after she was selected for a record-equalling sixth Olympic Games.
Bill Hoskyns (fencing) and Tessa Sanderson (javelin) are the only other Britons to have previously managed that feat, making Williamson's appearance at Wednesday's team announcement at Lord's all the more special.
She had to wait on a discretionary place - decided by head coach Lloyd Brown and performance director Sara Symington - after being edged out by Naomi Folkard and Amy Oliver for the automatic spots, with Alan Wills picked for the men's team alongside top-ranked pair Simon Terry and Larry Godfrey.
It was at Barcelona in 1992 that Williamson made her Olympic debut, before going on to compete in Atlanta, Sydney, Athens (where she won a bronze medal) and Beijing.
Passion
Hunt said: "What Alison has achieved is very special. Attaining the incredibly high standard required to become an Olympian once is something to be admired.
"To achieve it six times is something to be truly cherished and is a tribute to her consistent passion, determination and talent for the sport over two decades."
Williamson admitted that the twin goals of appearing at a home Games and joining the ranks of the Olympic six-timers helped drive her on through a tough selection process.
"What Alison has achieved is very special."
Andy Hunt Quotes of the week
She added: "A while ago I wrote myself a sheet of paper, a list of goals and a list of commitments I'd make.
"On it I wrote 'If I make it I will be the third Briton to have done this'. That motivated me. I had it pinned to the kitchen wall.
"I'm so thrilled and proud to make it to my sixth Olympics. It makes all the sacrifices and all of the hard work over the years worthwhile. This is the ultimate event that every athlete aspires to and to be there six times is just amazing.
"Obviously it's a home Games so it's that much more special than the others and my mum and dad are here volunteering too. It just doesn't get any better."
Belief
Britain's men's team arrived at their grand unveiling fresh from an outstanding performance in the World Cup event in Antalya, where they claimed gold in a top-class field, beating a strong India team in the final.
For British number one Godfrey, that was proof of their preparations for London 2012 and he is approaching the Games fully believing in his, and his teams', medal chances.
He said: "How we did in Turkey shows what we're doing is working.
"It worked there and everyone who was in Turkey will be here in the summer. The best of the best, all the top Olympic teams, were there and we won it.
"It's given us that confidence, shown us that what we are doing is right. We had a crack and we came out on top.
"If I try my best and shoot my best I should be in the mix as a potential medal winner.
"As a team we are among the best in the world too. It's a question of getting things right at the right time."