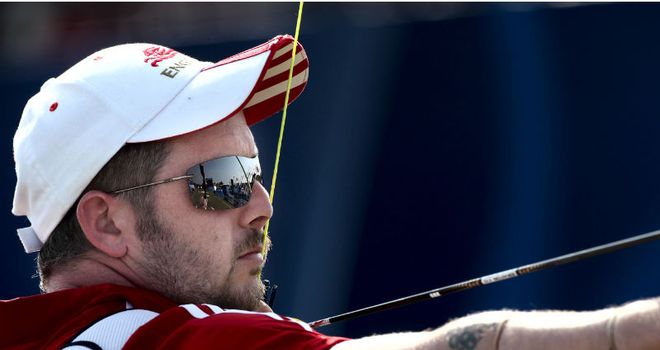 Godfrey: Wanted more time at Lord's ahead of the Olympics
The United States won men's team gold at the London 2012 test event at Lord's but Great Britain were knocked out in the opening round.
Inspired by world number one and World Cup Grand Final winner Brady Ellison, USA followed up their victory against South Korea in the semi-final with a win over Chinese Taipei to take the glory.
The South Korean team had earlier set a world record for a 24-arrow team shoot, scoring 233 from a maximum 240 in their first-round match against Belarus.
But the trio of Kim Woo-jin, Oh Jin-hyek and Im Dong-hyun - who beat his own 72-arrow record of 691 by two points in Monday's ranking round - could not match their early form in the last four.
Instead, they made to make do with third place after beating Spain in the bronze medal match.
The USA team of Ellison, Jake Kaminski and Joe Fanchin edged out Chinese Taipei 224-222 in the final, Ellison nervelessly sealing the match with the last arrow.
It was a disappointing day for the home contingent, with Team GB knocked out in the opening knockout round by a Ukraine side that included reigning Olympic men's champion Viktor Ruban.
Larry Godfrey, Alan Wills and Simon Terry went down 211-206 to Ruban, Dmytro Hrachov and Markiyan Ivashko.
At the halfway stage of the 24-arrow shoot, GB were leading by 106-105 but they lost their way in the penultimate end and could not come back despite a strong finish.
Godfrey, the highest seeded British archer in the men's individual draw after placing 13th, was disappointed with the display.
As Lord's can only give over limited time to archery, Godfrey was hoping to maximise the time in competition to get a better feel for the surroundings.
"It's different here. I felt like I made some great shots but they just weren't getting near," he said.
"It would have been good to get through, just to get the experience really because it's not very often we get to train here.
"The more time you spend somewhere the better your advantage.
"You can count our practice days here on one hand. We're not like some of the other teams, like the cyclists at the Velodrome - there is no real home advantage because we don't get to practise here all the time.
"You can count the number of chances (before London 2012) on one hand."
Team GB's women will have the chance to do better in their team competition on Wednesday, where they will start as seventh seeds.