Lord's, the home of cricket, will be turned into the home of Olympic archery for eight days during the London Games.
There are four gold medals on offer - individual and team competitions for men and women and, in all events, the archer shoots to a target 122 centimetres in diametre from a distance of 70 metres.
The target is made up of 10 concentric circles. The largest outer ring is worth just one point, with the score increasing by one point per ring as they get closer to the centre. The smallest ring - the bullseye - is just 12cm in diameter and counts for 10 points.
GLOSSARY OF TERMS
Anchor: point of the archer's face contacted by the drawing hand at full draw.
Boss: block of compacted foam to which the target is attached.
Draw: act of pulling back the bow string in preparation for shooting an arrow.
Finger tabs: small patch made of leather or synthetic material used to protect the fingers of the non-drawing hand from the bow string.
Fishtailing: noticeable swerve in the flight of an arrow.
Nock: groove at the end of an arrow that rests against the bow string.
Quiver: container used to carry arrows while an archer is shooting.
Skirt: non-scoring area of the target.
Robin Hood: splitting an arrow already imbedded in the target by firing another arrow into it.
Recurve bows - the tips curve away from the archer when unstrung - are the only type permitted at the Olympics.
At the elite level, bows are lightweight with a rigid central riser and flexible limbs. They are manufactured from laminated wood, combined with aluminium, carbon fibre, fibreglass, ceramic or foam, providing an ideal mix of strength, elasticity and power.
The bow string is made from an ultra-strong hydrocarbon product called dyneema and sighting devices are also permitted providing they do not contain lenses or magnifying glass, as are stabilisers with shock-absorbing weights.
The individual competition has 64 participants and starts with the ranking round where each archer shoots a total of 72 arrows in six ends of 12.
The scores determine the rankings for the knockout stage, which features one versus one matches in a single-elimination bracket, each archer now shooting 12 arrows alternately in ends of three.
The team competition takes place afterwards and sees each country field three archers, who all must have taken part in the individual.
There are usually between nine and 15 teams eligible, meaning the top-ranked countries - determined by cumulative scores from the individual competition - typically receive a bye through to the quarter-finals.
Matches consist of each team firing 24 arrows in four ends of six, with each archer firing two per end.
History
Archery as a sport has its origins in medieval England where peacetime competitions were held to ensure military archers kept their skills sharp.
The first bows are believed to have been invented at least as far back as 9,000 BC and many of the Classical civilisations fielded a large number of archers in their armies.
With the development of firearms, archery became largely obsolete in warfare but remained popular for hunting and as purely a recreational pastime - particularly with royalty and nobility.
Clubs and competitions began to take place from the middle of the 16th Century - King Henry VIII founded the first archery club in England - the Brotherhood of St George - in 1537.
Archery made its Olympic debut in 1900, one of the few sports open to women at that time.
It was dropped following the 1920 Games but made welcome reappearance in Munich in 1972 and has since been ever-present, with the team competition added in Seoul in 1988.
South Korea have been the dominant force since its reintroduction in 1972, winning 16 golds among a total of almost three times as many medals as any other nation.
Great Britain have won four bronzes, most recently Alison Williamson in the women's individual competition in Athens in 2004.
Best of British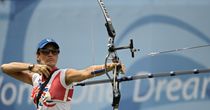 Alison Williamson is looking to compete in her 6th Olympics
Alison Williamson: The Shropshire archer is bidding to compete at her sixth consecutive Olympic Games in 2012. She made her Great Britain debut at the age of 14 and has since become her country's most decorated archer, the undoubted high point of her Olympic career so far being an individual bronze in Athens in 2004, while she also won individual and team silver at the 2010 Commonwealth Games in Delhi.
Simon Terry: As a 19-year-old, won individual and team bronzes at the 1992 Barcelona Games before retiring from the sport the following year. His bow lay dormant for more than a decade before he was tempted to make a return in time to qualify for his second Olympic Games in Beijing, 16 years after his debut.
Laurence Godfrey: Godfrey has suffered his fair share of Olympic heartbreak, making it to the individual semi-finals on his debut in 2004 before losing by a single point in the bronze-medal match. He suffered nightmare in Beijing four years ago, crashing out in the first round of both the individual and team competitions.
Naomi Folkard: Debuted in Athens in 2004 as a 21-year-old, the Leamington Spa archer finished 11th in the individual event and was part of the Great Britain team that lost to France in the bronze-medal match in Beijing four years later.
Ones to Watch
Viktor Ruban: The Ukrainian turned himself into a national hero with a nerveless display to win individual gold in Beijing in 2008, clinching victory over South Korea's Park Kyung-Mo in the final by a single point.
Im Dong-Hyun: Part of the all-conquering South Korea team, Im has won team gold at the past two Olympics and was individual world champion in 2007 despite his eyesight being so bad he is considered legally blind. He refuses to wear glasses or contact lenses and has turned down free offers of corrective surgery as he prefers to rely on "feel" when he shoots.
DID YOU KNOW?
Archery was compulsory by law in 14th Century Britain for every man aged between seven and 60 because it was considered so important to the defence of the nation.
Hollywood actress Geena Davis, famous for her roles in films such as Thelma and Louise and The Long Kiss Goodnight, took part in trials for the United States team for the 2000 Sydney Olympics just three years after taking up the sport. She came 24th out of 300 at the trial and did not make the team.
Im Dong-Hyun was part of South Korea's gold medal winning teams in 2004 and 2008 despite being considered legally blind. The Korea Archery Federation lists his eyesight as 20/200, meaning he can see at 20 feet what a person with perfect vision can see at 200 feet.
Zhang Juanjuan: The Chinese archer will defend her individual title in London having broken the South Korean stranglehold with victory on home soil. Zhang, from Qingdao in the Shangdong province, has also won team silver at the last two Olympics.
Yun Ok-Hee: Part of the South Korea team that won gold in Beijing in 2008, Yun also earned individual bronze. She has continued to improve since and starred at the Asian Games with gold in both the individual and team events.
Olympic Greats
Kim Soo-Nyung: The South Korean thrilled her home fans in Seoul in 1988 by taking individual and team gold as a 17-year-old. She won individual silver and another team gold four years later in Barcelona before retiring. However, Kim, by now a married mother of two, was tempted back for the 2000 Games in Sydney, where she added a fourth gold in the team event.
Darrell Pace: The American won individual gold in 1976 before being denied the chance to defend his title due to his country's boycott of the 1980 Games in Moscow. He returned to Olympic action on home soil in Los Angeles in 1984, where he again won individual gold - joining 400m hurdler Ed Moses as the only person to win golds in 1976 and 1984. Pace finished ninth in the individual event in 1988 but picked up his third career gold when the United States triumphed in the inaugural team competition.
Antonio Rebollo: The Spaniard is responsible for perhaps the most iconic Olympic archery moment. Rebollo, who contracted polio as a baby and suffered damage to his legs, won two silvers and a bronze in three Paralympic appearances but is best remembered for lighting the cauldron in Barcelona in 1992 by firing a flaming arrow into it.