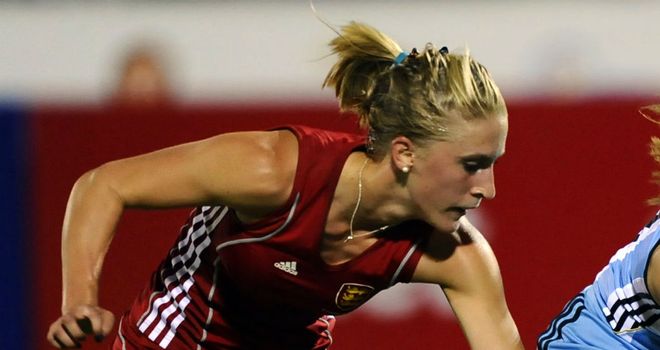 Susie Gilbert: Back in the squad after missing EuroHockey Nations Championships
Canterbury defender Dilly Newton is set to make her competitive senior international debut after being included in Great Britain women's squad for a trip to the United States.
The 22-year-old has been named in a 24-strong party which will fly out to San Diego on Monday for warm weather training and five matches against their host nation.
University of Birmingham midfielder Susie Gilbert and Leicester forward Katie Long are also included having missed this summer's EuroHockey Nations Championships due to injury.
Four Scots - Laura Bartlett, Vikki Bunce, Emily Maguire and Abi Walker - and Wales international Sarah Thomas make up the non-English contingent in the squad.
For coach Danny Kerry it is the first time in his preparations for next year's Olympics he has been able to select a GB team for an overseas Test series.
"Having missed out on selection through injury in the summer a number of players get an opportunity," he said.
"The USA team is dynamic, hard-working and to a player they are all competitors which will lead to keenly-contested matches.
"The USA come off the back of defeating Argentina (ranked second in the world) in the Pan Am finals and will bring that experience and confidence to the Test series.
"We will continue to develop our level of team play and train hard between the matches.
"The relative warmth of San Diego compared to a British winter will also guarantee us a good two-week training environment."
Great Britain's will play all five matches over a period of eight days, beginning December 11.
Great Britain squad: M Hinch (GK), C Cullen, R Herbert, K Long, H Macleod, A Panter, C Rogers (Leicester); A Walker (GK), D Newton, N Seymour (Canterbury); A Ball, N White (Slough); L Bartlett, A Danson, E Maguire, S Quek, H Richardson, K Walsh (Reading); V Bunce (Dundee Wanderers); S Thomas (unattached); G Twigg (Clifton); L Unsworth (Loughborough Students); S Walton (Bowdon Hightown); S Gilbert (University of Birmingham).