Blake Bortles: Quarterback is a great acquisition for Jacksonville Jaguars
Neil Reynolds says the Jags and the Rams had good Drafts - but urges caution over Johnny Manziel.
Last Updated: 12/05/14 5:16pm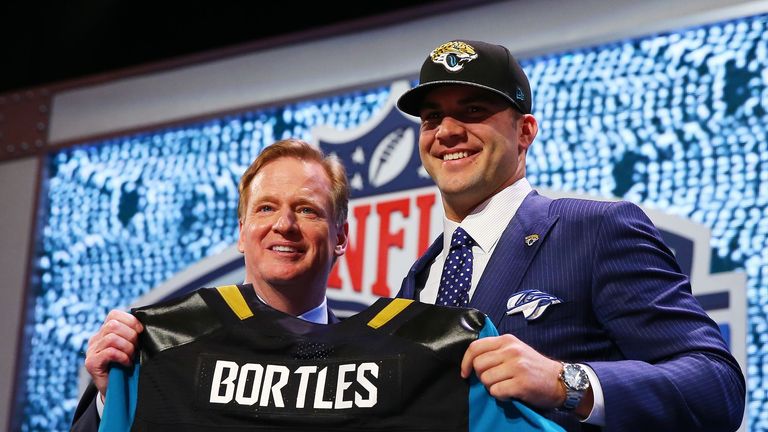 I cannot touch on every single headline in one column, but I will offer up half a dozen stories that caught my eye in this special edition of Pick Six...
Jags deliver "wow" moment
Gridiron magazine produced a mock draft a few weeks ago and I was charged with picking for the AFC South teams. I gave Houston Jadeveon Clowney and Jacksonville a quarterback at number three in Blake Bortles.
While Clowney was a given to me, I never quite believed the Jags would take a passer that high, even though it was an area of pressing need. So when NFL Commissioner Roger Goodell announced that pick early on Thursday night it created quite a stir.
I have been impressed by Bortles during the draft process. He just has the look of a franchise quarterback and certainly acts like a team leader. What impressed me most about Jacksonville's draft is that they immediately surrounded him with two young targets in second round receivers Marqise Lee and Allen Robinson.
Even more impressive is the fact the Jags appear to be patient and building for long-term success. If Bortles is not ready to go this season, they are happy for him to ride the bench the way rookie passers used to do in the NFL, before lining him up to start in 2015.
It's all about Johnny Football!
Considering he was selected 22nd overall by the Cleveland Browns, Texas A&M quarterback Johnny Manziel received a disproportionate amount of media coverage during the draft. And I get the feeling it is going to be that way throughout this young man's career.
Manziel doesn't ask for all that attention, but he doesn't seem overawed by it either. He strutted onto the stage at Radio City Music Hall with an undeniable swagger and is already attracting a Tim Tebow-like following in the United States.
A reported 2.5 million tweets relating to Johnny Manziel were posted between 7pm and midnight (US time) on Thursday evening. I didn't see anywhere near that kind of interest for the likes of Clemson wide receiver Sammy Watkins or South Carolina defensive end Jadeveon Clowney, both of whom went considerably higher in the draft and are better pro prospects than Manziel.
I don't mind a bit of hype around a young player, but let's see if he can play in the pros before anointing him to greatness. Otherwise he does run the risk of being just another Tim Tebow.
A head-scratcher in New England
In future Hall of Fame quarterback Tom Brady I feel the New England Patriots are still in good shape under center for a few more years to come. Their priority should be to upgrade the defense and do their best to surround Brady with as much talent as possible.
Therefore, I have a hard time getting on board with New England's second round pick, which saw them select Eastern Illinois quarterback Jimmy Garropolo. That feels like a wasted pick to me because Brady is not breaking down physically and is not in need of a succession plan just yet.
When New England selected Garropolo, a talented receiving target was still on the board in Jarvis Landry, who ended up going to the Miami Dolphins one pick later.
I cannot help but think Landry would have helped the Patriots be a stronger Super Bowl contender in 2014 than Garropolo and this is a team in win-now mode.
Rams chase NFC West leaders
The NFC West Division was the toughest in football last season and that was reflected by the fact that the Seattle Seahawks and San Francisco 49ers chewed lumps out of each other in the NFC Championship Game.
Well, the Rams certainly got tougher ahead of the 2014 season with a draft that saw them haul in highly-rated offensive tackle Greg Robinson and pass-rushing defensive tackle Aaron Donald (pictured).
The Rams can now get after the quarterback with the best defensive line in football as Donald will slot in alongside Robert Quinn, Chris Long and Michael Brockers.
I would have liked the Rams to add a wide receiver in the draft - which they failed to do - but you have to like the way they strengthened both lines and the NFC West just became even tougher in 2014.
The forward pass is king
The NFL is becoming more and more of a throwing league with each passing season and that was reflected in the opening round of the draft in which a record nine defensive backs were chosen.
If you can affect the passing game - either on offense or defense - you have a shot at being a first round draft choice. Of the 32 picks in round one, I would estimate that 31 players directly impact the passing game, whether it be as quarterbacks, protecting passers, rushing the quarterback or catching passes.
The only player who is at a position in which run defending is key is linebacker C.J. Mosley, who was chosen by the Baltimore Ravens. But even he is a factor in the passing game in that he doesn't have to come off the field on third downs due to his athleticism.
The opening round of the NFL Draft showed - emphatically - that there is not as much of a place in today's league for a thumping defender who can only play the run, and running backs are also becoming increasingly devalued with the first - Bishop Sankey (Tennessee Titans) - not going until the 54th overall pick in the second round.
Mark it in your diaries
The NFL scouts, coaches and general managers hate the fact that the NFL Draft was held in May this year. But mark it down in your diary for 2015 because I don't think we're going back to an April selection meeting any time soon.
While a delayed draft means more work for the scouts and less on-field time for the coaches, the extra weeks discussing the NFL have been good for the league. And the increased speculation and interest resulted in a massive spike in television viewing figures in the United States.
Like it or hate it, I think the May NFL Draft is here to stay.