Neil Reynolds picks his leading free agents ahead of the NFL signing period
Neil Reynolds picks six of the biggest free agents hoping to strike it big in the NFL signing period.
By Neil Reynolds
Last Updated: 11/03/14 1:36pm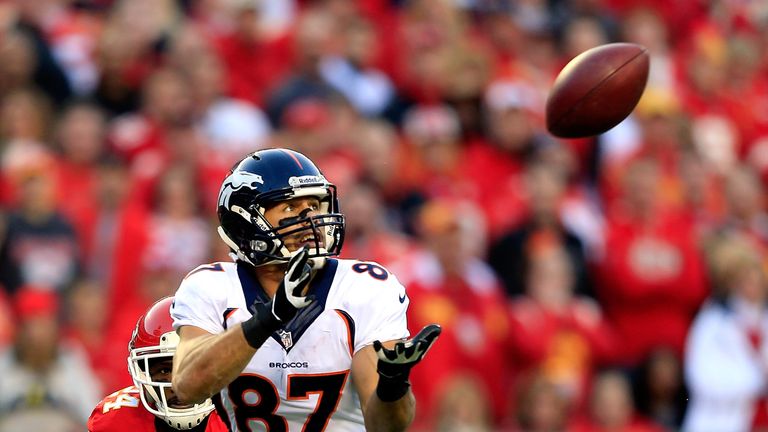 While it is not officially transfer deadline day in the United States, there will be a similar kind of drama as the 32 NFL teams scramble to sign the leading free agents who are out of contract and up for grabs.
Ahead of the free agency signing frenzy, many teams have adopted a 'better-the-devil-you-know' approach and have re-signed their own star players before they could test the open market.
The reigning Super Bowl champion Seattle Seahawks have made a key move by re-signing pass-rushing ace Michael Bennett and other big-name players returning to their current teams include cornerbacks Brent Grimes (Miami Dolphins) and Sam Shields (Green Bay Packers), defensive lineman Everson Griffen (Minnesota Vikings), tight end Dennis Pitta (Baltimore Ravens) and wide receivers Riley Cooper (Philadelphia Eagles) and Jeremy Maclin (Philadelphia Eagles).
But there is still a lot of top talent on offer and the NFL clubs have plenty of money to spend. League rules mandate that NFL clubs must spend up to 95 per cent of their annual $133 million salary cap.
So there is no hoarding of cash in the NFL - it is time to spend, spend, spend and here, in true Pick Six fashion, are a few of the leading players about to strike it rich.
Jairus Byrd - Safety - Buffalo Bills
The Bills chose not to slap the protective franchise tag on Jairus Byrd for the second year in a row and that means a rare talent is about to hit the open market. Byrd has the range and speed to cover the entire field and the ability to make plays on the ball and come up with interceptions.
And he has age on his side at 27, meaning he remains a viable long-term option for a new team. And it's just as well because Byrd will command top dollar in a league where safeties are becoming increasingly important. He wants to be paid in the region of $9 million per season - a price tag that was too rich for the Miami Dolphins, who were believed to be in the hunt before signing Louis Delmas to a $3.5 million, one-year deal late last night.
Players as good as Byrd are not normally allowed to hit free agency (see the list of re-signings above) so he will create a great deal of interest. The Cleveland Browns - who are now led by former Bills defensive coordinator Mike Pettine - have cash to spend and a desire to upgrade at safety. Watch this space, Browns fans.
Branden Albert - Offensive Tackle - Kansas City Chiefs
Elite Pro Bowl left tackles are hard to find and they will be coveted in free agency because they protect the men with the golden arms - the quarterbacks. And that means Branden Albert is going to command a salary in the region of $10 million per season.
According to reports out of America, the giant offensive tackle - the premier tackle up for grabs in this free agency signing period - has agreed a deal in principle with the Miami Dolphins. That makes sense given how the Dolphins allowed a league-high 58 sacks in 2013 and are completely rebuilding a terrible offensive line.
Albert has never been a mauling run blocker, but his quick feet and athleticism have made him excel in pass protection. That is what the Dolphins are crying out for and if they don't ink him to a deal quickly, the Arizona Cardinals will be happy to swoop in and oblige.
Michael Johnson - Defensive End - Cincinnati Bengals
The Cincinnati Bengals are stacked up front and cannot pay all of their guys to return. That means this talented and disruptive defensive end - whose statistics took a misleading dip in 2013 - will hit the open market.
Johnson is only 27 years old, he is stout against the run and he remained active throughout the 2013 season despite recording just 3 ½ sacks compared to 11 ½ in 2012. Johnson knocked down passes, harried quarterbacks and played with tremendous energy.
A general manager foolish enough to be put off by his poor numbers in 2013 will sorely regret that decision. Johnson is one of the premier players on offer and will make a team very happy indeed in the coming days.
Vontae Davis - Cornerback - Indianapolis Colts
The brother of San Francisco 49ers Pro Bowl tight end Vernon Davis is just entering his prime as he will only be 26 years old when the 2014 season begins. The younger Davis brother proved he has the tools to be an elite cornerback.
Davis was one of the best in the game last year and it was only a series of late-season injuries that affected his form when his team needed him the most. He has a lot of good years ahead of him and will command a healthy salary given the importance of the cornerback position in today's pass-happy NFL.
Don't rule out a return to the Colts because they badly want him back in Indianapolis, but there are plenty of other cornerback-hungry teams willing to throw their hats - and dollars - into the ring.
Eric Decker - Wide Receiver - Denver Broncos
There are plenty of doubters who don't believe Eric Decker to be a true number one wide receiver. That may be the case, but he might be about to get paid like one!
Decker certainly benefited from playing with Peyton Manning and alongside Demaryious Thomas and Wes Welker but many teams will still covet adding a proven talent who reeled in 87 passes for 1,288 yards and 11 touchdowns.
It would be cheaper for wide receiver-needy teams to draft a young talent and develop him for the future, but some don't have the patience for that in the "win now" NFL. And that means Decker is likely to get over-paid as if he is a true number one. But in the right situation, he brings trusted veteran performance to a team, whereas there is an element of the unknown in signing a rookie out of college.
Lamarr Houston - Defensive Lineman - Oakland Raiders
This versatile defensive lineman - he can play inside and outside - may not be as big a name as other free agents such as Patriots cornerback Aqib Talib or New England wide receiver Julian Edelman, but I think he is about to land a big contract.
NFL teams love versatile big men who can be moved across the defensive line formation. And that is what Houston has become during his first four years in the league. He may stand 6-foot-3 tall and weigh in at 300 pounds, but Houston is an athlete with explosive hands and quick feet.
The Raiders have the money to bring Houston back but appear content to move on. The Green Bay Packers and defensive line-needy Chicago Bears are among his chief suitors on the eve of free agency.
There are many more talented players up for grabs in the coming days and weeks - too many to list here. And while some scouts and general managers insist this should not be the chief way to build a team - the NFL Draft remains the cheapest and most effective way to stock your roster - this is a proven way to add talent to your roster.
And there is no doubting the fact that the NFL Draft alone is not enough. You also have to make a splash in free agency.
Take this February's Super Bowl in New York between the Seattle Seahawks and Denver Broncos as an example. Of the 44 starters on the field for both teams, 15 were acquired through free agency.
It is worth noting that one signing will not immediately turn your team into a Super Bowl champion. But the fact remains that if they add enough quality to the roster, success could be just around the corner in the ultra-competitive NFL.
That's what makes this upcoming free agency signing period so exciting. Enjoy!
The great sport keeps coming during Magnificent March. Here are some of the highlights you can enjoy with Sky Sports.