Neil Reynolds reveals the often brutal workings of the NFL Combine
The painstaking Combine puts hopefuls through mental and physical pain, says Neil Reynolds.
Last Updated: 27/02/14 11:48am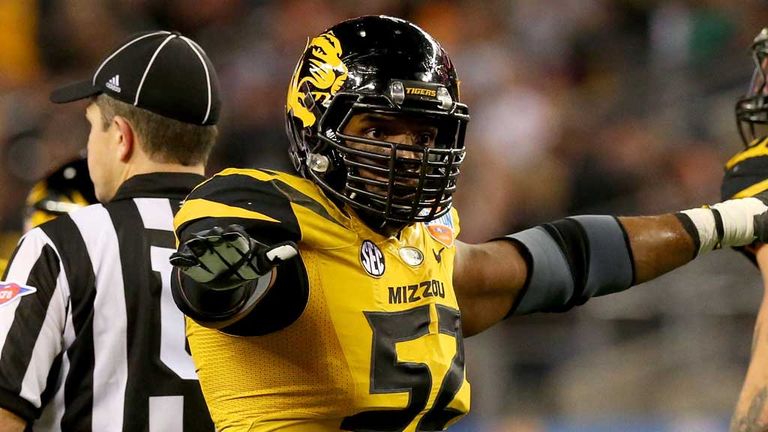 One of the biggest events of the off-season is underway in Indianapolis - the NFL Combine - as the leading 335 players from the college football ranks are put through a battery of physical and mental tests that could have a dramatic impact on where they are selected in the annual NFL Draft, which will be aired live and exclusively on Sky Sports on May 8.
And that ranking in the NFL Draft, of course, can mean a difference in annual salary worth millions of dollars.
Since the introduction of a rookie salary cap, the contrasts between those chosen at the top of the NFL Draft and those selected further down are not quite as stark. But there are still millions of reasons to succeed in Indianapolis this weekend.
Jackpot
Take last year's NFL Draft as an example. The top pick - Kansas City Chiefs' offensive tackle Eric Fisher - inked a four-year deal worth $22.2 million.
That four-year salary slipped to $12.6 million by the time offensive guard Chance Warmack was selected tenth overall by the Tennessee Titans. The final pick in the first round - Baltimore Ravens' safety Matt Elam - also signed a four-year deal but his was worth just $6.7 million.
That's a difference of $15.5 million in terms of the contracts offered to the young men at the top and bottom of the first round a year ago.
The top pick in round two earned a four-year deal worth $5.4 million. That dropped to $3.1 million in round three, $2.7 million in round four and down to $2.2 million for a four-year deal in the seventh and final round.
So the stakes are clearly very high for the young players who will be poked, pushed, prodded and questioned hundreds of times over in the coming days.
The NFL Combine - which runs until February 25 - is unique in world sport. For a player looking to prove his worth in front of hundreds of scouts, coaches and personnel executives, it can be a head-spinning combination of a cattle market and a speed dating session.
While most participants have already played at least three years of high-profile college American football, this is the first time NFL scouts are really able to get their hands on them.
And the talent evaluators from America's most powerful sports league leave nothing to chance in their bid to find out everything they can about the young men they could potentially invest millions of dollars in.
It's hard to imagine something similar featuring young stars from the world of football or rugby union. But it remains the prime opportunity for each NFL team to learn more about their future financial investments.
Analysis
It's like a meat market, admits former University of Connecticut running back Andre Dixon, who went through the NFL Combine in 2010. You feel like you're cattle and they're looking for the biggest cow.
I remember them measuring how far back my arm stretched, recalls quarterback Josh Freeman, who was chosen in the first round of the NFL Draft by the Tampa Bay Buccaneers after successfully working out at the 2009 Combine.
They leave no stone unturned.
Before they even begin to partake in drills that remotely resemble something you would see on an American football field, players have to strip to their underwear in order to be measured for height and weight.
Team officials also carry out extra tests to find a player's wingspan, the size of his calves, wrists, arms, legs and torso. Each athlete is also forced to lie down in a giant egg-like contraption which measures body fat. There is not much room for dignity during these proceedings.
Medical tests are also very thorough at the NFL Combine as players are checked for blood pressure, heart and organ function, and undergo several X-rays in addition to flexibility testing. They are also screened for illegal and performance-enhancing substances.
It can be exhausting stuff. And that's all before the player has stepped onto the gridiron at Lucas Oil Field - home of the Indianapolis Colts.
When they do get onto the field, players will go through drills that relate to their respective positions. Quarterbacks will throw a barrage of passes, receivers will catch balls and cornerbacks will showcase their ability to shadow the fastest men in the game. And so on.
There are other standard drills that are spread across each position. The 40-yard dash, bench press, vertical jump, broad jump, three-cone drill and the 20 and 60-yard shuttles are all designed to test a player's explosiveness, speed and power.
Body and soul
Players are also tested for their mental sharpness. They are expected to undergo a 12-minute, 50-question Wonderlic test which is used as a standard intellectual measuring stick across American industry.
The importance of such test results is often disputed. The average score for an NFL player is 21 (journalists average 26 apparently!) but the legendary Dan Marino reportedly scored just 14. And any score under 10 is meant to suggest that a player has serious literacy problems.
Here are a few examples of questions prospective NFL players might face in Indianapolis this week (answers at the bottom of the page):
1. Paper sells for 21 cents per pad. What will four pads cost?
2. A train travels 20 feet in 1/5 of a second. At this same speed, how many feet will it travel in three seconds?
3. A boy is 17 years old and his sister is twice as old. When the boy is 23 years old, what will be the age of his sister?
4. The hours of daylight and darkness in September are nearest equal to the hours of daylight and darkness in which month
Of more interest to the NFL clubs are the psychological evaluations that let the coaching staffs know what kind of player they could be investing in.
Are they getting a committed professional dedicated to the team and someone who is determined to win a Super Bowl ring, or are they about to sign a self-centred individual content to pick up a big salary without so much as a sniff of championship glory?
Each NFL team will gather in Indianapolis with their own team of psychologists looking to analyse every seemingly-inane remark made by players who are expected to meet with each club until gone 11pm every night.
They all come with their own crazy ideas, recalls Tennessee Titans wide receiver Kenny Britt, who took part in the 2009 NFL Combine.
The strangest question I had was: 'If you die, what kind of animal would you like to come back as: a cat or a dog?'
Former San Francisco 49ers linebacker Scott McKillop adds: I was discussing my mother when a scout suddenly blurted, 'Have you ever smoked marijuana?'
It can be tiring and repetitive but each player must negotiate his way through the gathering that has become part track meet and part job fair.
Sam's announcement
While scouts will be eyeing potential first round prospects who could become NFL superstars - including three highly rated quarterbacks in Johnny Manziel, Blake Bortles and Teddy Bridgewater - the media will focus considerable attention on Missouri defensive end Michael Sam.
The SEC Defensive Player of the Year has been tabbed as anything from a third round prospect to an athlete who will go undrafted. But the media storm will centre on the fact that Sam has the potential to become the first openly gay player in the NFL after coming out a couple of weeks ago.
Sam will not only find himself in the media spotlight in Indianapolis. Rightly or wrongly, NFL teams will want to find out more about his personality and ability to fit into a professional locker room.
From a pure football point of view, the 32 NFL teams will see an under-sized defensive end who has some questions surrounding his game - most notably whether he has the strength to survive on the line or the mobility and athleticism to succeed in space if he moves to the linebacker position.
Those concerns mean Sam is likely to be a low round draft choice. Given that he is going to attract massive media attention all through training camp and into the 2014 season, Sam has to prove that he is worth the trouble as such a low selection.
And one way he can do that in Indianapolis is to show the scouts that he is a team-first, solid and hard-working professional who is determined to succeed at the game's highest level.
The physical drills will be important for Sam, but the mental aspect of the NFL Combine will also be vital. And that rings true for the other 334 prospects about to go under the microscope in Indianapolis.
As Josh Freeman stated earlier in this column, the NFL will leave no stone unturned in the search for the superstars of tomorrow.
Wonderlic Test Answers
1. 84 cents
2. 300 feet
3. 40 years old
4. March