Super Bowl: Neil Reynolds Picks his Six as Seattle Seahawks overwhelm Denver Broncos
The Seahawks dominated Super Bowl XLVIII from the start, so Neil Reynolds closes it with his Pick VI!
By Neil Reynolds
Last Updated: 03/02/14 4:41pm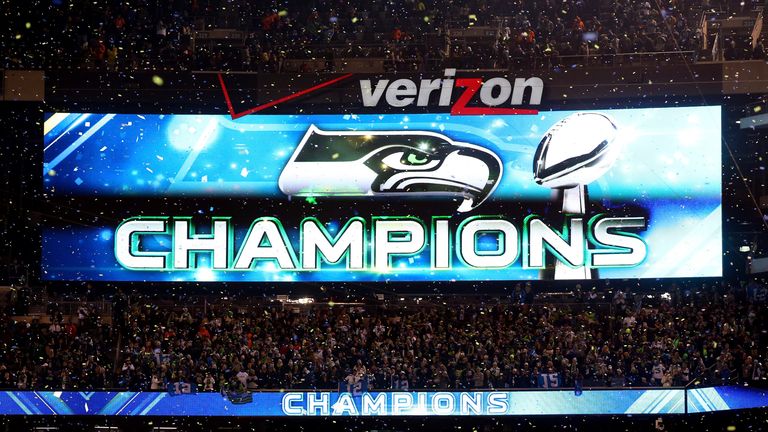 This was back to the old days when we were all growing up with the NFL in the 1980s and 1990s - the NFC team blowing out the AFC minnow in the Super Bowl was almost an annual occurrence.
While the Seattle Seahawks' 43-8 victory over the Denver Broncos may have lacked drama, we did not lack quality football and you have to admire the dominant, brutal display put forth by Pete Carroll's men.
The Seahawks scored within the game's first 12 seconds and never looked back. Here is what caught my eye in the New York Super Bowl....
Harvin was an X-factor!
One of my players to watch when I wrote this column on Saturday was Seahawks wide receiver Percy Harvin. I felt that even though he had only played one and a half games this season due to hip and concussion injuries, he was too dangerous to ignore if healthy on Super Bowl Sunday.
And that proved to be the case. Harvin scored on a back-breaking 87-yard kick-off return to start the second half, proving once again that Denver sloppily cover kicks because half of them fly out of the end zone in Mile High Stadium.
Harvin also had a couple of nice runs and one catch. By the game's end, he had touched the ball four times for 137 yards and a touchdown. It was a nice return from a man who Seattle could have easily given up on this season and put on the permanent injured reserve list.
Legion of Boom!
Denver tried to run their crossing routes to create confusion and yards after the catch opportunities. All they succeeded in doing was getting their receivers heads knocked off by the Legion of Boom.
What a dominant group of defenders the Seahawks have. It starts up front with the four men pressuring Peyton Manning but those guys on the back end back it up. I thought Kam Chancellor was fantastic and had a real shot at the MVP award.
The Seahawks took away Denver's will with a series of big hits. Demaryious Thomas caught a lot of balls but was punished for everyone, Wes Welker was sporadic at best and I think the New Jersey State Police are still out looking for Eric Decker and Julius Thomas. They went missing early and didn't want any part of the physicality the Seahawks were bringing.
An unheralded group
The Seahawks play with a chip on their shoulder and rightly so. Some of their biggest contributors on Sunday night have been overlooked time and time again by teams around the NFL.
Quarterback Russell Wilson was a third round selection because he was too short, touchdown-scoring receivers Doug Baldwin and Jermaine Kearse were undrafted free agents, MVP linebacker Malcolm Smith was a seventh round selection, Richard Sherman and Kam Chancellor were fifth rounders and fellow defensive back Byron Maxwell was taken in the sixth round.
The Seahawks are a dangerous mix. They are fast, they are aggressive and they are young - but most importantly, they are ticked off that people didn't believe in them and play with a permanent desire to prove the rest of the NFL wrong.
Numbers do lie
There are lies, damn lies and statistics, according to the famous phrase. Well, on this occasion, the statistics are telling me a lie because there are some very misleading stats to come out of this Super Bowl.
Years from now we will open up the record books and see Peyton Manning set a new mark for completions with 34 and Thomas set a new best with 13 receptions. That might lead us to believe the Broncos had some success in the passing game but, we all know, that couldn't be further from the truth.
And the fact that Peyton Manning was sacked just once is very misleading indeed. He faced constant pressure from the Seahawks with Cliff Avril (he who once played on the worst team in NFL history in the 0-16 2008 Detroit Lions) catching the eye.
Manning was pressured time and again and the result was four Broncos turnovers. That alone proves you don't need sacks to be a successful defence in the NFL - you just need to get in the quarterback's grill and make him feel you.
Wilson shines on big stage
Russell Wilson came into Super Bowl XLVIII with a slight slump in form, hundreds of headlines being written about the other quarterback in the contest and many suggesting he was purely a game manager.
But Wilson showed on Sunday night that he is much more than that. I thought he was outstanding as he hit on 18 of 25 passes for 206 yards, two touchdowns and a quarterback rating of 123.1.
After an early miss of a wide open Zach Miller, Wilson was poised and accurate with his throws. He connected with eight different receivers and once again showed how dangerous he can be when scrambling to set up the pass.
With his first two years under his belt, Wilson has won more games than any quarterback in NFL history by that stage (28) and has a Super Bowl ring. Not a bad start!
The NFL got away with one!
As I write this article I am looking out of the window of my Manhattan hotel and seeing some pretty heavy snowfall. It is fair to say the NFL got away with one on Sunday night, missing this winter storm by just a few hours as the Broncos and Seahawks played in perfect football weather.
With six to eight inches of snow predicted to fall today, the 6,000 members of the media will finally have some Super Bowl weather to write about, but it won't relate to the game - it will all be about how it is affecting their travel plans.
Now, I'm off to build a snowman with Kevin Cadle! Thanks for reading this column all season long. It has been my privilege to write for you throughout what has been a thrilling 2013 campaign. I'm not going to say enjoy the NFL off-season because, let's face it, we won't!