Neil Reynolds previews Denver v Seattle at Super Bowl XLVIII
Neil Reynolds picks six lesser-known stories ahead of Super Bowl XLVIII on Sunday night.
Last Updated: 27/01/14 6:57pm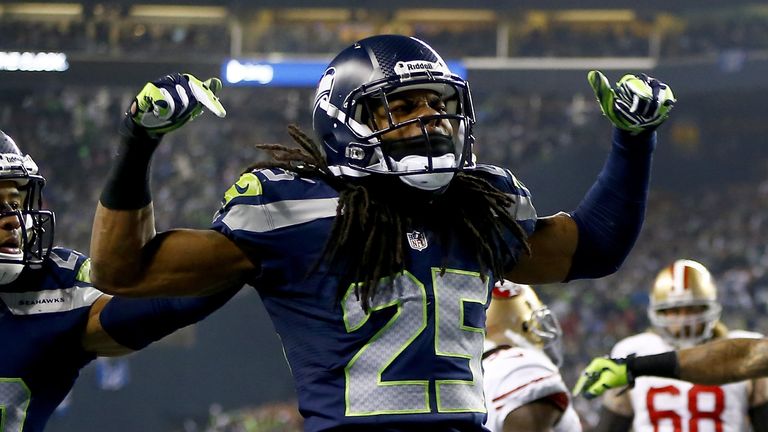 With the competing teams in town, all the talk of number one seeds, the Arctic weather conditions, Peyton Manning and Richard Sherman can begin. This is a Super Bowl loaded with storylines as the best two teams in American football get set to clash at MetLife Stadium on Sunday night.
But I thought I would offer you six lesser-known storylines that might yet decide the destination of the Vince Lombardi Trophy in New York at the weekend.
The Officiating
How Terry McAulay and his crew call this Super Bowl could go a long way to determining how this game plays out. For example, how physical will the officials let the Seahawks be in the secondary? Seattle led the NFL with 13 pass interference penalties during the regular season but will certainly want to get their hands on the likes of Demaryius Thomas and Eric Decker.
On the other side of the ball, Denver will want to open up space for their receivers with crossing and rub routes, but as we saw in the AFC title game, this can be controversial as they are sometimes called upon to take out trailing defensive backs.
These two areas will be vital because if Seattle shut down Denver's high-octane passing attack, the Broncos are in trouble. I always lean to hoping the officials let them play as much as possible in a big game and I don't want this Super Bowl to disappear under a shower of yellow flags. But that might mean the Seahawks feel emboldened to be even more physical than normal against the Broncos. Time will tell.
The other units
A lot is being made of the Denver offense and the Seattle defence in this game - and rightly so. This is the first time in Super Bowl history that a team who led the league in yards gained and points scored (Denver) has clashed with a defence that led the NFL in fewest yards and points allowed (Seattle).
But as is often the case in games like this, it is the lesser-profiled units that decide the outcome of the contest. How will Seattle fare in trying to pass the football with a young quarterback who has been slightly off his game in the second half of the season in Russell Wilson? And will 'Beast Mode' running back Marshawn Lynch be able to impose his will on the Denver defence?
The Broncos were there for the taking, defensively, in the first three quarters of the 2013 NFL season. But they closed out the year playing like a top five unit and have been dominant along the defensive line, led by Terrance 'Pot Roast' Knighton and veteran free agent pick-up Shaun Phillips.
The Harvin Factor!
I remain convinced that if he can head into the Super Bowl close to healthy, Seahawks wide receiver and return man Percy Harvin can have a big impact on the game. When healthy, I would rate him as one of the top five or 10 players in this Super Bowl - his dynamic speed can break a contest wide open.
Harvin turned out to be damaged goods when the Seahawks paid heavily for him in the off-season, handing Minnesota first and seventh round picks in the 2013 NFL Draft and a third rounder in 2014. They then signed Harvin to a six-year, $72 million contract extension guaranteeing him a cool $11 million for 2013.
Harvin had a serious hip injury and has played a total of just 39 snaps during one and a half games this season - a Week 11 regular season clash with the Vikings and the first half of the NFC Divisional Playoff win over New Orleans. He heads into the Super Bowl with four catches for 38 yards and one kickoff return for 58 yards to his name.
But he remains adamant that no restrictions have been placed on him this week, despite missing the NFC Championship Game with a concussion. If he is close to 100 per cent, Harvin could be the under-the-radar star of this year's Super Bowl. Talent is not the problem here - this is strictly a health issue for Harvin and the Seahawks.
Super Bowl experience
These teams are a little green around the gills when it comes to Super Bowl experience. Only one player on the field on Sunday night will be safe in the knowledge that he already has a Super Bowl ring sitting in his safe back home - Denver Broncos' quarterback Peyton Manning.
But even that fact does not ease the pressure on Manning. He will still have to deal with all of that "cannot win big games" talk if he loses the second of his three Super Bowl appearances.
In terms of experience, the only other Broncos to have played in the big game are wide receiver Wes Welker (who had a nightmare in Indianapolis a couple of years ago), cornerback Dominique Rodgers-Cromartie (who lost with Arizona in the dying moments against Pittsburgh) and tight end Jacob Tamme (who lost with the Colts when they faced the New Orleans Saints and Manning threw a costly fourth quarter pick six).
The Seahawks have just one player who has been through Super Bowl week before - backup wide receiver and special teams' ace Ricardo Lockette was with the 49ers last year although he played no part in the loss to Baltimore.
All the pre-game talk will go out of the window by kick-off on Sunday night, but the week of preparation will depend on how well these players deal with the madness and attention of seven days of Super Bowl talk!
Field Position
Coaches talk all the time about hidden yards (yards acquired on special teams or penalties) and emphasise the importance of starting positions. This might be a real challenge for the Broncos, who routinely defend long fields due to kicking the football through the end zone in the rarefied air in Colorado.
The Broncos kicked off a lot this year given that they set a new single season points mark with 606 in 2013. And Matt Prater often sent the ball flying through the back of the end zone, meaning opponents had to start on their own 20-yard line.
Imagine if Seattle can start - on average - on their own 35-yard line or they break a long return or two and start near midfield? On the flip side, the Seahawks produced the NFL's best coverage units on punts. What kind of impact will it have on the game if Manning has to routinely go 70 or 80 yards against the best defence in football?
Things like that can be huge in a tight game.
Free agent frenzy
Every March sees NFL fans get excited about potential roster-building opportunities for their respective teams. And then the spoil-sport general managers remind them that free agency is not the way to build a champion and that building through the NFL Draft is the way to go.
Try telling that to fans of the Denver Broncos and Seattle Seahawks. Some big-name free agent acquisitions are going to be featured heavily in this game.
Peyton Manning was a free agent for Denver in 2012 and the Broncos added significantly this year in receiver Wes Welker, offensive lineman Louis Vasquez and pass-rusher Shaun Phillips. They also bolstered their secondary with Dominique Rodgers-Cromartie.
The Seahawks have a fierce pass rush that includes 2013 free agent additions Cliff Avril and Michael Bennett. Both of those guys are going to be called upon to disrupt Manning.
Of course, the general managers will say that good drafting kept the salary cap numbers down and allowed such free agency moves to be made!
Enjoy the build-up to the big game and I'll check back in from New York later in the week.