Neil Reynolds includes Tom Brady, Peyton Manning, Marshawn Lynch and The 49ers in his Pick Six
The big names and biggest frames won the big play-off games, as Neil Reynolds' Pick Six explains...
Last Updated: 13/01/14 2:46pm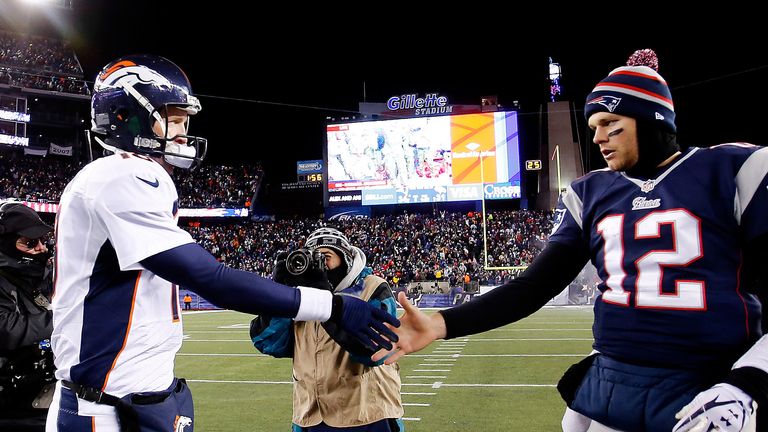 The four games played on Saturday and Sunday - all brought to you exclusively live on Sky Sports - may have lacked the drama of the Wild Card round, but they did leave us with some classic rivalry match-ups in the AFC and NFC Championship Games.
Sunday's showdowns for the right to play in the Super Bowl will pit Tom Brady's New England Patriots against Peyton Manning's Denver Broncos in the AFC.
The NFC title game promises to be a real slug-fest as the San Francisco 49ers take on the Seattle Seahawks. There is no love lost between these teams and it starts right at the top with head coaches Jim Harbaugh and Pete Carroll.
But before we get into the countdown to the Championship Games, let's take a look at what caught my eye over the weekend...
Patriots grind it out
The New England Patriots proved on Saturday night that they are adaptable and willing to change. The Pats have arguably the greatest quarterback in NFL history in Tom Brady yet they have morphed into a power running team.
With Brady much lighter on passing weapons than he has been in recent seasons, New England showed they will do whatever it takes to win in the NFL. And if that means taking the ball out of the hands of their star passer, then so be it.
Led by LeGarrette Blount, the Patriots ran for 234 yards and six touchdowns in the 43-22 hammering of the Indianapolis Colts. Brady has now thrown for fewer than 200 yards in three straight games but won't be crying about a reduced role - he will be playing in his eighth AFC Championship Game this weekend and is still on course for a fourth Super Bowl victory.
And to Brady and the Patriots, it's not about the style points - they're all about the victories, which is probably why they are back in the AFC title game for the third year in a row.
All out of Luck
Those of you waiting for me to jump off the Andrew Luck (pictured) bandwagon can move on - nothing to see here! I am still a massive fan of the Indianapolis Colts quarterback even after his four-interception display against the Patriots on Saturday night.
The Colts may not have fulfilled their Super Bowl ambitions this year, but I think they are in pretty good shape for the future. Luck is a special player who will learn to take better care of the football after a couple of interception-filled playoff games, and his young receivers have a world of potential - we will be talking more and more about the likes of T.Y. Hilton and LaVon Brazill in the coming years.
Indy will regret parting company with a first round draft pick in exchange for under-performing running back Trent Richardson but, for the most part, this is a well-run club and the arrow is still very much pointing up for the Colts.
Big backs still required
There are not as many franchise running backs in the NFL as there might have been 15 or 20 years ago. And we read all the time how quicker and faster players are needed at all positions because they have to be able to succeed in space.
That is certainly true and the NFL is very much about creating mismatches and utilising a player's speed. But Marshawn Lynch (pictured) - and the aforementioned LeGarrette Blount - proved over the weekend that power backs still have a place in the league.
Lynch was in full 'Beast Mode' during Seattle's 23-15 victory over the New Orleans Saints as he rushed for 140 yards and two touchdowns on 28 carries that tested the manhood of Sean Payton's team.
When in the kind of form he displayed on Saturday night, Lynch is capable of taking over a game and almost single-handedly leading his Seahawks to victory. Running against the San Francisco 49ers may sometimes resemble hurtling full speed into a brick wall, but Lynch certainly won't shy away from that challenge in the NFC Championship Game.
That's a bunch of grown men!
Watch any NFL game and you can see that American football at the professional level can be as brutal as it is breath-taking and exciting. And with players on both sides of the ball barking away at each other and trying to gain the upper hand both physically and mentally, showing weakness of any form can lead to problems.
The San Francisco 49ers don't have to worry about that because they don't give an inch when it comes to the physical and psychological side of the game. That was clear during their 23-10 win over the Carolina Panthers on Sunday evening.
The 49ers have a bunch of grown men on the defensive side of the ball and their offensive counterparts are no softies either. Colin Kaepernick (pictured) certainly plays with an edge at the quarterback position and simply refuses to be intimidated, no matter how well or badly he is playing in a game.
That toughness - both mental and physical - trickles down from the very top in San Francisco because head coach Jim Harbaugh is hard-headed, intense and ornery. And he was much the same when playing quarterback in the NFL. He played quarterback with the mentality and physicality of a linebacker.
And that toughness has rubbed off on a 49ers team playing in the NFC Championship Game for the third year in a row.
Cam needs more help
The Carolina Panthers have a dominant defensive front seven and a star quarterback in Cam Newton. But there are clearly still some holes on their roster that need fixing if they are to make the jump from a final eight team to a Super Bowl champion.
I think the Panthers need some more help in their defensive secondary but the primary goal has to be to improve an offense that ranked 26th in the NFL this season. And the best way for the Panthers to achieve that goal is to surround Newton with some more weapons in the passing game.
Steve Smith (pictured) showed that he still has the passion and skills to be a factor when healthy (his knee injury hampered his effectiveness in the second half) but he will be 35 when the 2014 NFL season kicks off. Now, you write Steve Smith off at your absolute peril but he cannot be expected to lead the receiving corps on his own.
At the moment, Brandon LaFell and Ted Ginn are too inconsistent and the Panthers are not effective enough in the passing game to play from behind as they were forced to do on Sunday.
There should be no pushing of the panic button in Carolina because they have enjoyed a very good season. But there should also be recognition that the job is far from done and more pieces need to be added to the puzzle during the off-season.
Manning moves on
Peyton Manning (pictured) would have gone into Sunday's Divisional Play-Off game against the San Diego Chargers knowing he had more "one and done" post-season appearances than any other player in the league.
Well, he can move on from that now, knowing he is just 60 minutes away from playing for a second Super Bowl ring. Manning was not operating at the record pace we have seen during the 2013 campaign, but he was very efficient on a day when it was very windy in Denver and the Broncos were intent on establishing the run.
Manning threw for just 230 yards and two touchdowns but he saved some of his biggest throws until the game's final drive with Denver protecting a 24-17 lead after a late San Diego revival. On third and 17, Manning fired a first down completion to tight end Julius Thomas and then repeated the trick on third and six later in the same drive.
Game over...
Much of the talk this week will be on Brady vs. Manning and the fact that Tomhas three Super Bowl rings to Peyton's one. That is a factor, to me, and is why I would take Brady if you offered me one of these guys with the game on the line.
But the fact remains that Manning is a true great and a very special player. We should just enjoy the careers of both these quarterbacks while they are among us and we should certainly relish another Championship Game showdown in which they are playing for a place in the Super Bowl.