NFL Week 17: Neil Reynolds on drama and controversy of season finale
Neil Reynolds on lucky San Diego and coaches fretting over their jobs at the end of a lively regular season.
Last Updated: 05/01/14 11:23am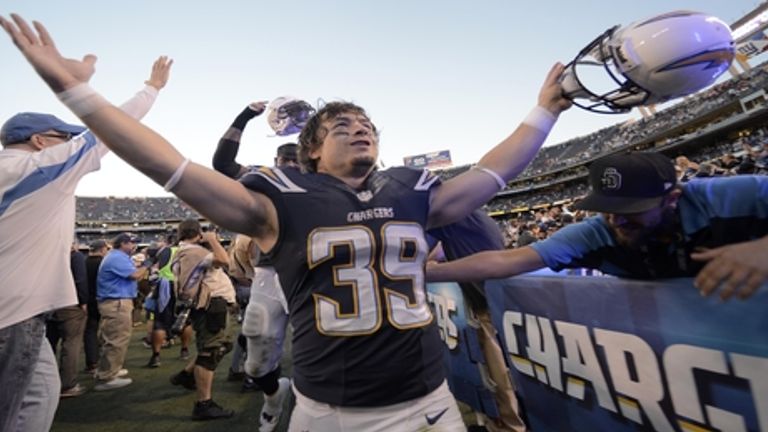 Sunday night was the NFL at its very best and the race for the final wild card spot in the AFC encapsulated the topsy-turvy nature of the league.
Adopting the tried and tested Sky Sports "as it stands" method used so well on the final day of the football season, there were various stages where it was looking good for the Miami Dolphins, Baltimore Ravens and Pittsburgh Steelers.
But it was the San Diego Chargers who will be playing next weekend as the sixth and final member of the AFC playoff line-up. Before I get to the Chargers though, I want to kick off with a timely return to action for one of the best in the business.
Revenge is a dish best served by Rodgers
The Chicago Bears broke Aaron Rodgers' collarbone in Week 9. After an extended spell on the sidelines, Rodgers returned on Sunday to break Chicago's hearts.
The former NFL and Super Bowl MVP showed why he is arguably the best pure passer in the NFL today as he shredded the Bears defense for 318 yards and two touchdowns, including the game-winning 48-yarder to Randall Cobb inside the final minute of a 33-28 thriller at Soldier Field.
American football is one of the ultimate team sports but Sunday showed the importance of having a top-level quarterback. The Packers are far from being a perfect team and have far too many holes on the defensive side of the ball, yet Rodgers gives them a chance to win each and every weekend.
And he makes those around him better. The ball comes out quicker than back-up passer Matt Flynn and Rodgers gives his receivers a chance to shine. Jordy Nelson had 10 catches for 161 yards in Chicago and a fit-again Cobb turned both his receptions into touchdowns.
The Packers have their problems and certainly don't deserve to be any higher than a number four seed in the playoffs, but somehow they are still alive and Rodgers makes them a dangerous out.
Questions to be asked
The Green Bay Packers went the best part of eight games without their star quarterback and during that time they won just two contests. With a combination of back-up signal-callers at the helm, the Packers lost five and endured the numb feeling of a tie against the Minnesota Vikings.
But somehow, some way, the Packers are busy preparing for a playoff game this weekend after edging into the post-season with an 8-7-1 mark.
That is a damning indictment on the 8-8 Chicago Bears and the 7-9 Detroit Lions. Both clubs had a shot at the division and let the chance slip through their fingers. The Lions will be especially frustrated as they, unlike the Bears, had no such injury worries with their starting quarterback.
When Rodgers went down, the Lions were on their bye week but very much in contention with a 5-3 record. But they ended the year losing six of their final eight games, throwing away a shot at a division crown that was there to be taken.
While I think Marc Trestman is safe in Chicago, I do think Detroit's second half collapse is going to cost head coach Jim Schwartz his job.
Chargers ride their luck
The San Diego Chargers should buy a few lottery tickets this week because their luck is most definitely in. And, most importantly, they are in the playoffs and still alive in the race for the Super Bowl.
San Diego needed the Miami Dolphins and Baltimore Ravens to lose in the early games on Sunday. Then they needed to go out and defeat a Kansas City team who couldn't affect their own playoff standing and were resting most of their big-name stars.
Miami and Baltimore obliged with disappointing performances I will talk about in a few moments, but things were looking bleak for San Diego as the Chiefs lined up for a game-winning 41-yard field goal with just eight seconds remaining in a game tied at 24 apiece.
Incredibly, Ryan Succop sent his 41-yard effort wide right and the Chargers eventually won in overtime by a 27-24 scoreline. But a flag should have been thrown on the missed field goal as San Diego lined up with seven men to one side of the Chief snapping the football. You are never allowed more than six on one side of the formation on field goal attempts.
The Chiefs should have been allowed another attempt at the game-winner and while nothing is guaranteed, you have to think that Succop would have made his effort from 36 yards out.
But the officials missed that call, erred on the side of the Chargers when Kansas City appeared to have scored on a game-winning fumble return in overtime and San Diego lived to fight another day. And as long as they have the talented Philip Rivers at the helm, they have a puncher's chance on the road in Cincinnati next Sunday.
Quarterbacks fail in big games
I cannot help but be disappointed with the performances of Joe Flacco and Ryan Tannehill with their respective seasons on the line.
Baltimore and Miami needed to win on Sunday night and both fell to losses that were not all that close. You could make an argument that the Ravens faced a tough task taking on a Bengals side that had not lost at home all season, but the Dolphins were a massive disappointment during their home loss to the Jets.
Flacco threw three interceptions, including one that was returned for a touchdown, against the Bengals and Tannehill offered up the same number of picks during a poor 20-7 loss to New York.
A team looks to its quarterback to deliver in big games (see Aaron Rodgers above) and Flacco and Tannehill failed. Sure, they were not helped out by those around them, including their offensive lines, but they have to come up with better than the serving they dished up on Sunday.
Black Monday in the NFL
Black Monday in the NFL is a day when under-fire head coaches should lock themselves in their offices and ignore the ringing telephone. The day after the final regular season games is when teams around the league make changes if their coach has failed to deliver.
Last season saw eight coaching changes in the NFL and this year we didn't even get to Black Monday. The Cleveland Browns were first out of the gate with the firing of first-year head coach Rob Chudzinski on Sunday night.
My first thought is that the Browns cannot keep chopping and changing coaches and Chudzinski deserved more than 352 days on the job. But then I looked closer at the results of the Cleveland Browns and was reminded that the NFL is very much a "what have you done for me lately?" league.
After a 3-2 start, the Browns lost 10 of their last 11 and seven in a row. More damaging than those results are the reports that Chudzinski had lost the locker room and his players were just going through the motions. It's tough to survive if that is true, but some new head coach is going to need some time in Cleveland. This team must start to show some patience with coaches and develop a long-term plan. They need to start by finding a quarterback in May's draft and a running back or two in free agency or the draft.
Other coaches who might want to avoid that ringing phone are Jim Schwartz (Detroit), Joe Philbin (Miami), Mike Shanahan (Washington), Jason Garrett (Dallas), Mike Munchak (Tennessee), Leslie Frazier (Minnesota), Greg Schiano (Tampa Bay) and Dennis Allen (Oakland). Several of these guys are going to fall on their prospective coaching swords sooner rather than later.
Happy New Year
2013 was quite a year for British NFL fans. We enjoyed two games at Wembley Stadium, saw 500,000 fans take over Regent Street and another 50,000 pack out Trafalgar Square. We have also been treated to some memorable games on Sky Sports each weekend.
The regular season has been filled with drama, twists, turns and spectacular plays. I'm sure the playoffs will be the same way when they kick off exclusively live on Sky Sports this weekend.
And then 2014 brings the promise of three regular season games in the UK and continued growth on these shores. It is a good time to be an NFL fan in the UK and I am delighted and privileged to sit in the Sky Sports studios each weekend and discuss the action that unfolds.
We'll see you all for more than 15 hours of live playoff coverage this weekend. Until then, have a very Happy New Year!