NFL, Week 16: Neil Reynolds talks Arizona, Chicago and Luke Kuechly
Arizona might not make the play-offs and that means the system may need a revamp, says Neil Reynolds.
Last Updated: 23/12/13 2:22pm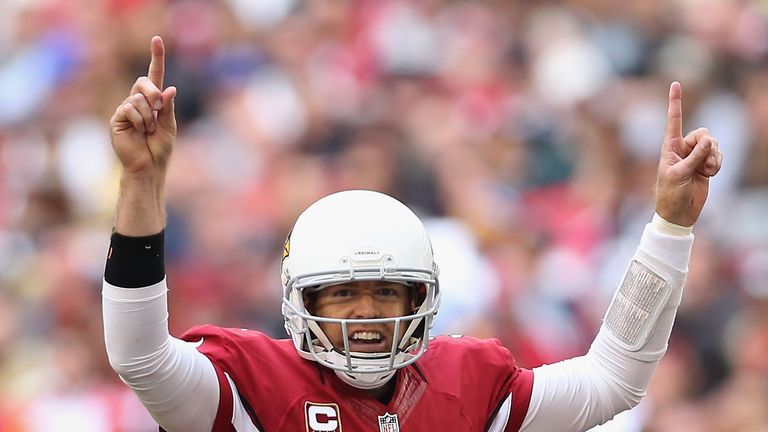 The NFL thrives on the basis that teams compete on a level playing field each season and any team can beat another on any given Sunday.
That was certainly the case on Sunday night as Week 16 cleared up the playoff picture in some cases, but also threw up some eye-raising results across the league.
The most surprising of those results is the first thing that caught my eye on the penultimate weekend of the regular season...
Cards deliver statement win
The Arizona Cardinals are for real. They still may not make the playoffs but they have proven themselves to be one of the feel-good stories of the 2013 campaign. Their 17-10 win in Seattle against the dominant Seahawks gave Arizona their 10th win of the season.
The very fact that Arizona won in Seattle is eye-opening. The Seahawks had not lost at home in 729 days and Seahawks quarterback Russell Wilson had not lost a home game since he was playing college football at North Carolina State on October 2, 2010.
It was a victory grounded in defence as the Cardinals harried Wilson all day long, recording four sacks, nine hits and more than a dozen pressures. But the winning points came from the offense as a rejuvenated Carson Palmer lobbed an inch-perfect 31-yard touchdown strike to wide receiver Michael Floyd.
The Cardinals are a reason for the NFL to consider their playoff format. They could very well miss out on the post-season with 10 wins to their name, while the Chicago Bears could get in with nine wins and the Green Bay Packers can get to the knockout tournament with just eight victories. That, to me, is not right.
Bears miss their chance
The Chicago Bears were playing in the last game of the day on Sunday and the equation was simple as they took to the field against the Philadelphia Eagles - win and the NFC North Division was secure. For the Eagles, the game was essentially a dead rubber given that their Week 17 showdown with Dallas will decide the NFC East.
Yet it was the Eagles who came out and played aggressively and as if they had something to play for, hammering the Bears to the tune of a 54-11 scoreline. That is an embarrassing result for a Chicago team that, quite frankly, does not deserve to make the playoffs ahead of the Arizona Cardinals.
The Bears are not quite in freefall but they have gone 5-7 since opening the season with three straight wins. Hardly gives the impression of a team intent on doing damage in the playoffs, does it?
While much will be made of Jay Cutler's return to the line-up at quarterback ahead of the in-form Josh McCown, the problems in Chicago lie on the defensive side of the ball. A team that once prided itself on strong defensive play is simply weak in that area. Could that be because they have an offensive-minded head coach in Marc Trestman (pictured)?
Miami endure Buffalo nightmare
The Miami Dolphins went into their Week 16 game with the Buffalo Bills knowing if they could win their final two contests of the year - against back-up quarterback Thad Lewis and struggling New York Jets rookie Geno Smith, they would be in the playoffs.
Miami didn't get much sleep before facing the Bills as a fire alarm went off in their team hotel at 3:30am on Sunday morning. Then they lived through a very real nightmare as the Bills ran out comfortable 19-0 winners when they had nothing but pride to play for.
The Dolphins' Achilles Heel this season has been their offensive line and it was more of the same on Sunday. Ryan Tannehill was sacked seven times and Miami gained just 14 yards on 12 rushes as the Bills dominated up front. Buffalo also dominated offensively, rushing 51 times for 203 yards.
Miami are still alive in the playoff race, but they're not ready for the bright lights of the post-season tournament based on this shoddy and shocking display.
Kuechly enjoys a game for the ages
I remember watching a preseason game in the United States this summer when I was visiting the Jacksonville Jaguars in training camp. I got back to my hotel room in the evening and had a wild night in, watching the Carolina Panthers play the New York Giants.
I recall Tweeting at the end of the first half that Carolina linebacker Luke Kuechly (pictured) might be the best inside linebacker in the game now, moving ahead of the likes of Patrick Willis and Navorro Bowman, of the San Francisco 49ers. He caught the eye time and again with his aggressive and instinctive play at the heart of the defence.
I had that thought again on Sunday as he dominated during Carolina's massive 17-13 win over the New Orleans Saints. Kuechly was all over the field, recording a club record 24 tackles and one interception.
The Saints like to dump a lot of short passes to their running backs and let the likes of Pierre Thomas and Darren Sproles make defenders miss. That's a good plan against a struggling or sub-par defence, but it failed against Carolina because Kuechly and fellow linebacker Thomas Davis never missed tackles.
The Sherriff delivers a record-breaking performance
We have become so used to displays of excellence from Peyton Manning that it was not all that eye-opening when he threw for 400 yards and four touchdowns during Denver's 37-13 dismantling of the Houston Texans on Sunday night.
But we should pause for a moment and recognise another example of Manning's greatness as he threw his 51st touchdown pass of the 2013 campaign in Houston, breaking the single season mark of 50 set by Tom Brady in 2007.
And Manning is not done yet. He could still grab Drew Brees' single season passing record before the year is over. The numbers alone are mind-blowing, but Peyton has to win some big post-season games and get his second Super Bowl ring before we put him in the conversation with the likes of Brady (three Super Bowl wins) and Joe Montana (four Super Bowl wins).
Don't get me wrong, Manning is a true great and his accuracy remains incredible even in his advanced NFL years. But surely an emphasis has to be placed on big wins, as well as statistics. And on that front, Manning has come up a little short during his glittering career.
Romo delivers
A week after his late-game meltdown cost the Dallas Cowboys against the Green Bay Packers, under-fire quarterback Tony Romo (pictured) delivered with his team's season on the line in Washington.
Facing goal with just seconds remaining and trailing by six points, a banged-up Romo evaded the Redskins pressure and fired a 10-yard touchdown pass to DeMarco Murray. It was not only the winning touchdown, it was seven points that might have saved some jobs in Dallas - at least for another week.
Romo makes his share of bone-headed mistakes when he tries too hard to make things happen. But you can say why he tries to do that and play that way - when he improvises and makes things up on the fly, he can also deliver much-needed wins for his team.
It might not be the classic way to play quarterback in the NFL, but Romo's way delivers victories. It just happens that it also delivers frustrating and costly mistakes along the way. That is something Cowboys fans have to learn to live with until the team makes a change at that position - Romo is certainly too old to change his ways at this stage of his career.